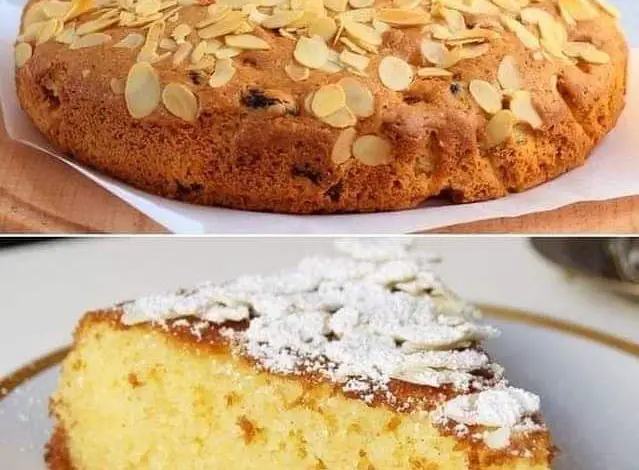 𝗔𝗹𝗺𝗼𝗻𝗱 𝗮𝗻𝗱 𝗟𝗲𝗺𝗼𝗻 𝗖𝗮𝗸𝗲
Almond and lemon cake is a delightful dessert that combines the nutty richness of almonds with the zesty, tangy flavor of lemons. This cake is a perfect balance of sweet and citrusy, making it a popular choice for tea time or as a dessert for special occasions.
𝗜𝗻𝗴𝗿𝗲𝗱𝗶𝗲𝗻𝘁𝘀
– 1 cup of almond flour (ground almonds)
– 1 cup of sugar
– 4 eggs
-Zest of 1 lemon
– Juice of 1 lemon
– 1 teaspoon baking powder
𝙄𝙣𝙨𝙩𝙧𝙪𝙘𝙩𝙞𝙤𝙣𝙨
1. Preheat your oven to 180°C (350°F). Grease and flour a cake pan.
2. In a large bowl, beat the eggs and sugar until smooth and creamy.
3. Add the almond flour and baking powder to the egg and sugar mixture. Mix well until all ingredients are completely combined.
4. Add the lemon zest and lemon juice to the dough and mix to incorporate the fresh lemon flavor.
5. Pour the mixture into the prepared mold.
6. Bake in the preheated oven for approximately 30-35 minutes, or until golden brown on top and a toothpick inserted into the center comes out clean.
7. Once ready, remove the cake from the oven and let it cool in the pan for a few minutes before transferring to a wire rack to cool completely.
8. You can sprinkle a little icing sugar or decorate with thin slices of lemon if you wish before serving.
This lemon almond cake is perfect to enjoy as a dessert or as an accompaniment to a cup of tea or coffee. The combination of the softness of the almond and the freshness of the lemon makes it a delicious sweet. Enjoy it!