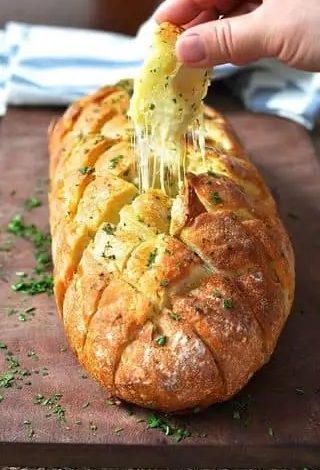 Garlic and Cheese Bread

Ingredients
1 loaf of bread
40 g. butter
6 tbsp. extra virgin olive oil
2 tbsp. wine vinegar
Grated cheese, in my case Mozzarella
2 garlic cloves
Parsley, oregano or other aromatic herbs (to taste at home)
Preparation of garlic bread and cheese
In the blender glass we put the melted or very soft butter and the oil.
We beat until we have a homogeneous cream.
We are adding the rest of the ingredients of what will be the bath for our breads. Add the vinegar, garlic cloves, parsley and oregano and mix well. We booked.
We can use the aromatic herbs that we like the most, it would be perfect with fresh basil if we had it or even thyme or rosemary.
We cut the bread into portions to our liking, they can be more or less large. Let's place the buns on the oven tray, on a baking paper.
With a kitchen brush, we paint the surface of the rolls until they are completely covered with the mixture of oil and butter that we have reserved.
Baking and final presentation of garlic bread
We cover the rolls with grated cheese, and with the oven previously heated to 200º C, we bake for 10 minutes, until we see that they begin to brown.
Remove the rolls from the oven and allow them to cool for a few minutes before enjoying them.