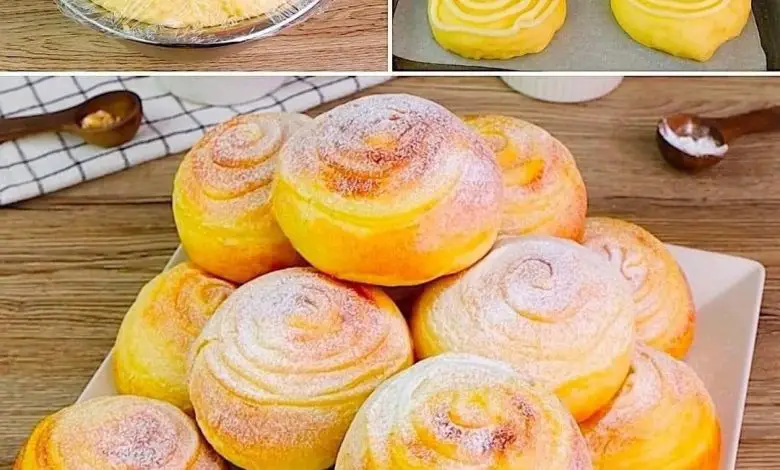 CREAMY BRIOCHES
Ingredients:
300ml warm milk
18g brewer's yeast
100g of sugar
2 eggs
100ml of sunflower oil
800g of flour
6g of salt
For the cream:
400 ml of milk
70g of sugar
1 egg
8g vanilla sugar
20g cornstarch
15g of flour
15g butter
1 egg yolk
Indications:
1. In a bowl add warm milk, yeast, sugar and mix. Add the eggs, sunflower oil and mix again. Then add the flour and salt and combine well to create the dough.
2. Brush the dough with oil, cover with aluminum foil and let it rest for 3 hours.
3. Sprinkle flour on the work surface. Knead the dough, divide it into smaller parts and make balls.
4. Transfer the balls to the parchment paper covered baking sheet. Let them rest for 30 minutes.
5. In a pot add milk, egg, sugar, vanilla sugar, cornstarch, flour to the sherpa and mix until the filling thickens. Finally, add the butter and mix everything well.
6. Press the brioche buns with your hands and add the filling on top with a bag of whipped cream
7. Brush with egg yolk and bake in the oven at 200°C/392°F for 30 minutes. Decorate with powdered sugar.