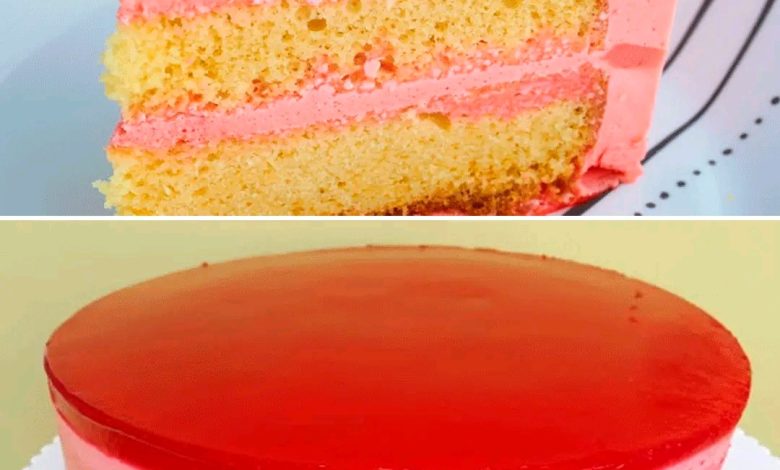 ICED CAKE 😋

Ingredients

For the sponge cake:

6 eggs
180g of white sugar
180g of unprepared flour
1/4 teaspoon salt
5g of baking powder
1 tablespoon of vanilla essence
For the layer of gelatin and strawberry
carlota:

500gr of strawberry jelly
1 liter of hot water
1/2 can of canned peach
400g of evaporated milk
For the orange Charlotte layer:
500g of orange jelly
1 liter of hot water
400g of evaporated milk

Preparation
Beat at maximum speed 6 eggs at room temperature, add 1/4 teaspoon of salt.
Add 180 grams of white sugar little by little. Beat at maximum speed for 5 minutes until the texture seen in the video is achieved.
Sift and add 180 grams of unprepared flour.
Sift and add 5 grams of baking powder.
Integrate with surround movements and add 1 tablespoon of vanilla essence.
Pour over a mold with parchment paper, distribute evenly.
Bake in a preheated oven at 180ºC for 15 minutes. Then let the cake rest and cool.
Unmold and cut the cake very carefully.
Dilute 500 grams of gelatin of the flavor you want in 1 liter of hot water.
Reserve 1 cup of diluted gelatin to prepare the carlota layer (gelatin with milk). Repeat with gelatin of another flavor.
In a greased mold, add 2 cups of diluted gelatin.
Place canned peach wedges (you can try it with other fruits)
Refrigerate for 1 hour and then remove from the cold. Add strawberry carlota and a layer of sponge cake. Refrigerate for 1 hour.
Remove from the cold, add carlota of another flavor. Place another layer of cake. Secure more carlota and a last layer of carlota. Refrigerate overnight.
Unmold with the help of a pastry spatula.