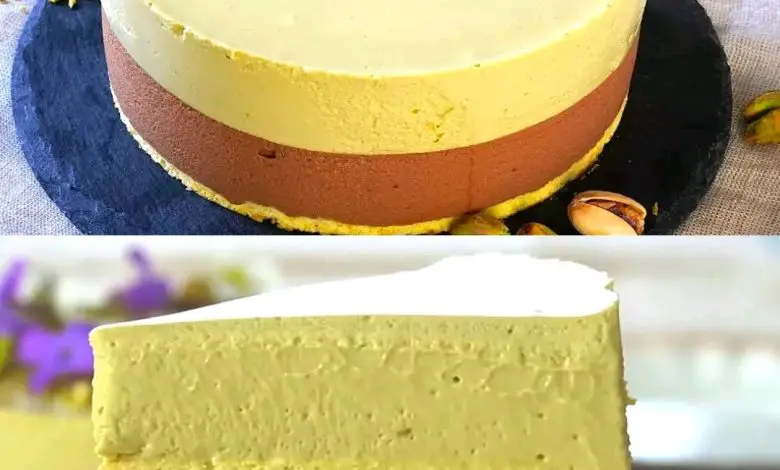 PISTACHIO AND CHOCOLATE MOUSSE CAKE😋

Ingredients

Biscuit:
2 eggs
60g of sugar
60g flour "00"
20g of milk
10g seed oil
Pistachio and dark mousse:
3 yolks
50g of sugar
270g of milk
300 ml of cream
10g of sugar
80g white chocolate
35 pistachio paste
110g dark chocolate
6g gelatin in sheets

Indications:
Cake: Beat the egg whites with the sugar until stiff. Then add the egg yolks and flour. Mix a small portion of the dough with milk and oils. Add to the dough again and bake at 190º for 12 minutes.
Mousse: mix the egg yolks with the sugar, then add salt and warm milk. Allow to thicken and refrigerate for 30 minutes.
Cut two sponge cake discs and then soak the gelatin.
Whip the cream with 10 g of sugar and then refrigerate.
Melt the chocolate and mix with 160 g of the previously prepared mixture, half of the whipped cream and 3 g of gelatin.
We assemble the first layer of cake and leave it in the fridge.
Do the same procedure with white chocolate and pistachio cream.
Form the second layer and leave in the fridge for 6 hours.