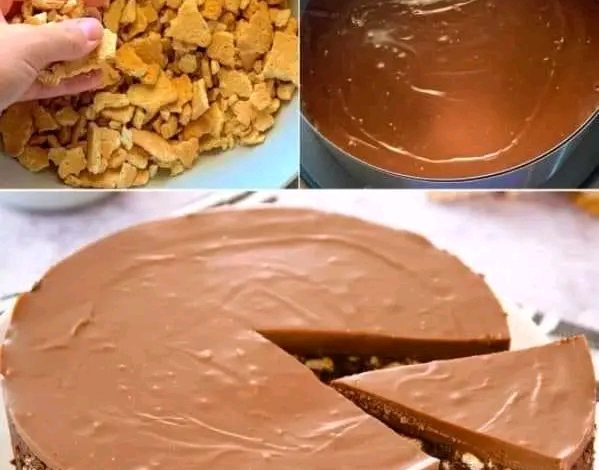 ✅Cold cake without baking
the recipe for a fresh and gourmet dessert with cookies and chocolate
Ingredients
COOKIES 200 gr
SUGAR 100g
MELTED BUTTER 100g
COCOA POWDER WITHOUT SUGAR 50 gr
MILK 50g
TO GARNISH

MILK CHOCOLATE 200g
FRESH CREAM 60g
Step 1

Gather the dry biscuits in a large bowl and crumble them with your hands until you have 1-2 cm 1 pieces.

2nd step
Add unsweetened cocoa, sugar and melted butter 2.

Step 3
Stir to mix all the ingredients well 3.

Step 4
Spread the mixture in a round mold 18 cm in diameter, smoothing well with the back of a spoon 4. Leave to harden in the refrigerator for 30 minutes.

Step 5
Meanwhile, melt the chocolate in a bain-marie, add the cream and pour the glaze over the biscuit base.

Step 6
Spread it evenly, swirling the mold gently, then let it harden in the refrigerator for another hour.

Step 7
At the end of this time, gently unmold the cake, transfer it to a serving platter and serve.