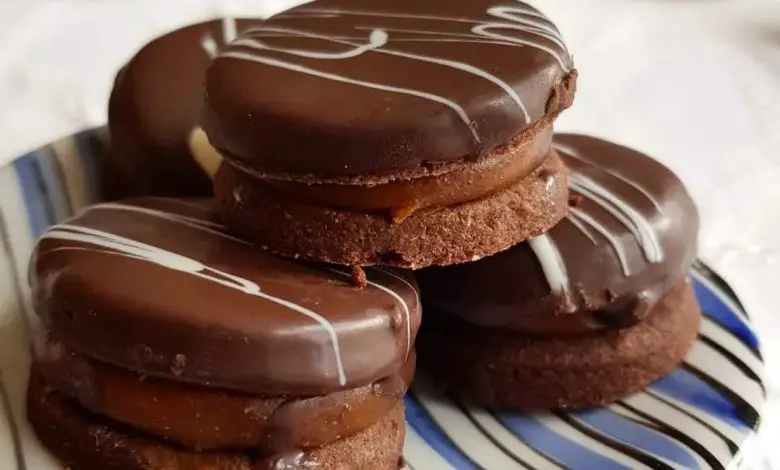 PURE CHOCOLATE ALPHAJORS!🍫☕🍫☕ .
Ingredients:
30 alfajorcitos .
400 grams flour 0000
80 gr cornflour
200 gr ointment butter
150 gr sugar
1 egg
1 tsp baking powder
1 tsp bicarbonate of soda
1 tablespoon of honey zest of an orange
100 gr cocoa powder
For the filling:
200 grams of semi-sweet couverture chocolate
200 grams of milk cream.
For the chocolate bath:
400 g of semisweet chocolate couverture, it can also be white…
Procedure
In a bowl, beat the softened butter (leave it out of the fridge at room temperature for a little while) with the sugar. Add the egg, the vanilla essence and finally the honey.
In another bowl, mix the flour, cornstarch with royal, baking soda and cocoa powder (if you can sift it much better).
Add the dry to the bowl of the liquid. Stretch the dough, take half an hour to the fridge. With a sharp knife make the caps, arrange them in a previously buttered roasting pan,
Bake in the oven at 170° for 10 to 15 minutes depending on the size of the caps, they do not need to be browned. let them cool, For the filling, bring the cream to a boil and bring over the chocolate.
Do not move for a few minutes to allow the heat to reach the center of the chocolate. Lower the temperature a little by stirring the preparation and take it to a sleeve to assemble the alfajores.
Arrange on a grid and bathe with the semisweet chocolate that we had for this purpose, if you like you can decorate with some dried fruit (walnuts, hazelnuts, almonds…