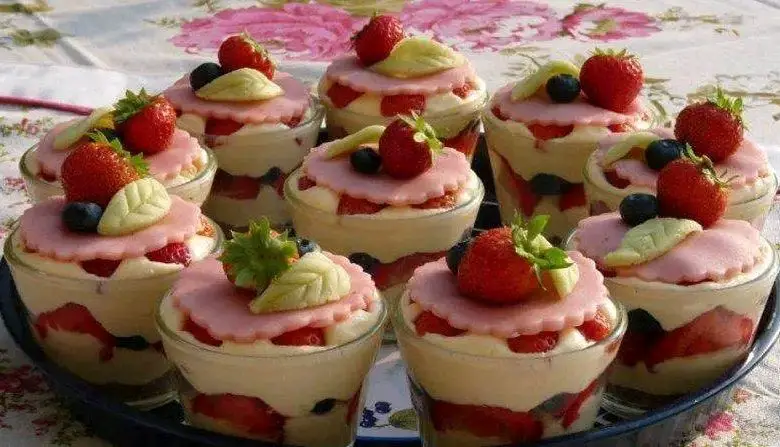 STRAWBERRY VERRINES (LIGHT) .
Ingredients for 4 persons)
– 150ml semi-skimmed milk – 1 vanilla pod
– 2 egg yolks
– 1 tablespoon of cornstarch – 30g + 20g powdered sugar – 1 egg white
– 4 spoon cookies
– 250g strawberries
– a squeeze of lemon juice .
Preparation:
Hull 100g of strawberries, mix them with a squeeze of lemon juice to enhance their taste. Pass the mixture through a sieve.
If the coulis is too thick, add a tablespoon of water. To book. In a saucepan pour the milk and the vanilla seeds collected in the pod, remove from the heat at the first broth.
Meanwhile whisk the egg yolks with 30g of sugar until the mixture whitens then incorporate the cornflour. Pour half of the hot milk over the preparation, mix with a whisk.
Put everything back in the saucepan with the rest of the milk, whisk constantly over low heat until the pastry cream has thickened.
Pour the preparation into a mixing bowl, film in contact then reserve in the refrigerator.
Meanwhile, whip the egg whites, adding the remaining 20g of sugar from the start, whisk until the meringue is stiff and shiny. Gently fold the meringue into the pastry cream.
In verrines (capacity 15cl), place a biscuit spoon and a little coulis at the bottom, arrange nicely thin slices of strawberries around the edge of the verrines then pour the cream using a piping bag.
Decorate with strawberry pieces. Store in the refrigerator until tasting. This dessert is to be made on
D-Day, the pastry cream is fragile and cannot be kept for more than 24 hours in the fridge.