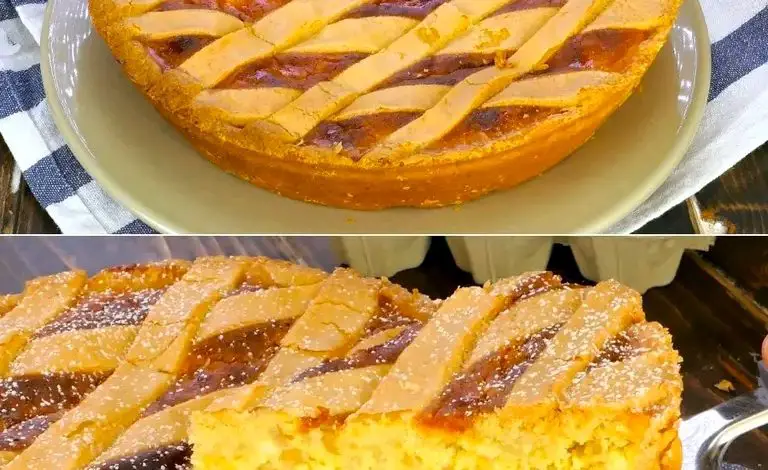 NAPOLITAN PASTRY CAKE 😋
Ingredients For the mass:
300 gr. Of flour
100 gr. of sugar
1 large egg The grated peel of 1/2 lemon a pinch of salt
100 gr. of lard
For the filling:
200 gr. of sugar
300 gr. of cooked wheat grains (see note)
2 large eggs
50 gr. chopped candied fruit (orange and lemon)
1 sachet of vanilla A little cinnamon powder
1 tablespoon extract of a thousand flowers or orange blossoms
1 tablespoon of lard
250 gr. sheep ricotta cheese 20 gr. icing sugar
1 glass of milk
Preparation:
For the first thing, we take the cooked wheat and pour it into a pot together with the glass of milk and a spoon of sugar.
We cook over low heat and always mixing until we get a cream. Add a tablespoon of lard and mix. Cool everything. We make the dough:
We take the classic wooden table to knead and pour the flour, the 100 grams of sugar and the salt.
We make a volcano and inside we pour the large egg, the grated lemon peel and the 100 grams of lard in pieces. We knead very well, until obtaining a homogeneous mass and we keep it for 15 minutes. We make the filling:
Now we take a large salad bowl and pour the eggs, the vanilla envelope and the 200 grams of sugar. Beat very well with an electric mixer until you get a cream.
Gradually add the cooked wheat and ricotta cheese, and continue with the electric mixer.
Finally, pour the chopped candied fruit, a little cinnamon and a spoonful of extract of a thousand flowers or orange blossoms. Mix very well and save. Present and bake the cake
We take a cake mold of 18 cm in diameter, and spread it very well with the lard.
Take 3/4 of the dough and cover the mold, flattening it with your hands until you get a 5 cm high edge.
Pour the mixture of ricotta and wheat and, with what is left of the dough, make the garnish for the cake, in this case the classic strips… Ready to bake.
Heat the oven to 200ºC, put the cake in and cook it for 5 minutes. Then continue for another 10 minutes at 180ºC and finally 35 minutes at 160ºC… The cake is ready when it is golden brown.
Store it in the oven for two days, then carefully remove it from the mold so as not to break it and garnish with icing sugar.