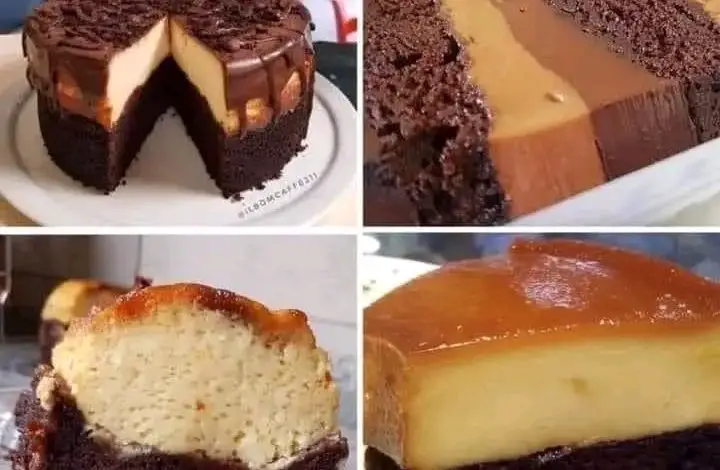 ▪︎ CHOCOFLAN
▪︎Ingredients:
For the caramel:
1/2 cup of white sugar
1/4 cup of water
Ingredients for the cheese or flan
5 eggs
1 can of condensed milk of 395 grams
395 grams of milk (we will use the measure of the can of condensed milk)
1 spoon of vanilla
Ingredients for the Moist
Chocolate cake
4 eggs
1 and 1/2 cup of wheat flour 1 cup cocoa or chocolate powder (not instant)
1 and 1/2 cup of sugar
1/2 cup of milk
1/2 cup of oil
1 tablespoon of baking powder (10 grams) Crown mold of 24 cm in diameter or a round one of 20 cm.
▪︎ Preparation:
The first thing we are going to do is the caramel and we are going to place it in our mold as if we were making a flan.
Then we begin to make the chocolate mixture, which would be our cake, when it is ready we pour it into the mold, lastly we make the flan mixture, and we pour it in the center of our preparation, we take it to the oven at 180 degrees Celsius for 1 hour .
to verify that it is ready we introduce a wooden stick if this list comes out clean. We are going to place this cake in the oven in a bain-marie.