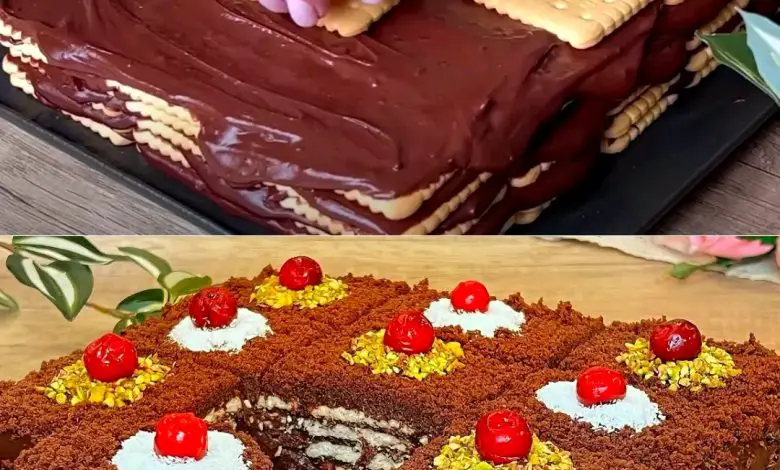 CHOCOLATE COOKIE CAKE 😋
Ingredients
For the cake:
1 cup of flour
1 cup of sugar Half a cup of cornstarch Half a cup of cocoa powder
1 packet of vanilla sugar (approximately 10 g)
1 liter of milk
50g butter
80g chocolate
1 cup of water (or milk)
270g of cookies
For decoration:
Chocolate cookies chopped pistachios grated coconut cherries
Indications:
In a saucepan mix all the dry ingredients: sugar, flour, cornstarch, cocoa powder, sugar, vanilla sugar.
Pour in the milk a little at a time and mix with a whisk. Try to avoid the lumps.
Now cook the mixture, stirring continuously, until it thickens.
Add the butter and chocolate chunks.
Melt and mix all the ingredients. Lastly, add water.
Start assembling the cake by making even layers of cookies and using the chocolate cream in between.
Use chocolate cream as well to cover the entire cake. Then sprinkle some crumbled chocolate chip cookies on top.
Let cool in the fridge for 3 hours.
Decorate with chopped pistachios, grated coconut and cherries.