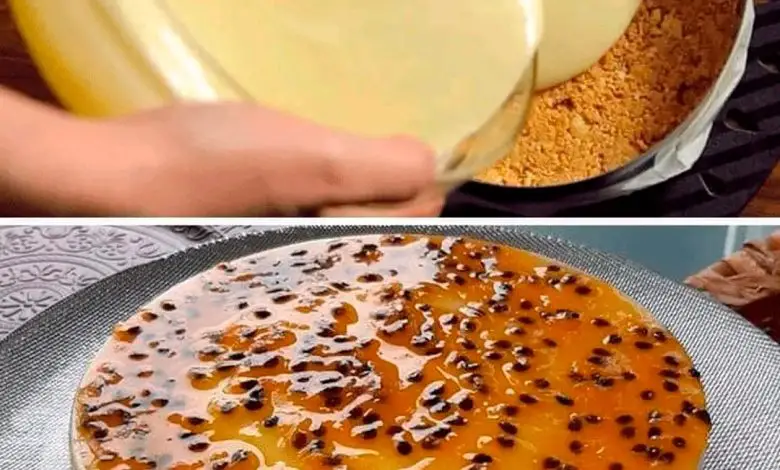 PASSION FRUIT CHEESECAKE 😋
Ingredients
-1 package of vanilla cookies -80 g butter
-1 pot of cream cheese
-3 eggs
-150g of sugar
-Water, amount needed
-2 fresh passion fruit or 1/2 cup passion fruit pulp
-14 g unflavored gelatin
-4 tablespoons of water
-200 g of milk cream
Ingredients for the sauce:
-2 fresh passion fruit or 1/2 cup passion fruit pulp
-1 and 1/2 cup of sugar
Preparation:
Step 1 Process the cookies together with the melted butter. Line a removable 22 cm mold and take it to the fridge for 20 minutes.
Step 2 Make a thin syrup (116 Cº) with sugar and water, barely covering its surface with it.
Step 3 Beat the eggs to white and add the syrup without stopping beating until cool.
Step 4 In a bowl, mix the cream cheese with the passion fruit pulp. Integrate the previous mixture of eggs with enveloping movements and reserve.
Step 5 Hydrate the gelatin with the 4 tablespoons of water (11'' in the microwave). Add the gelatin to the cream cheese and egg mixture.
Step 6 Finally add the whipped cream at ¾ point and mix well.
Step 7 Place the mixture on top of the cookie base. Take to the fridge for no less than 4 hours.
Step 8 For the sauce: mix the pulp with the sugar and cook until the mixture is like a kind of jam.
Step 9 Once ready, unmold and serve accompanied by the passion fruit sauce.