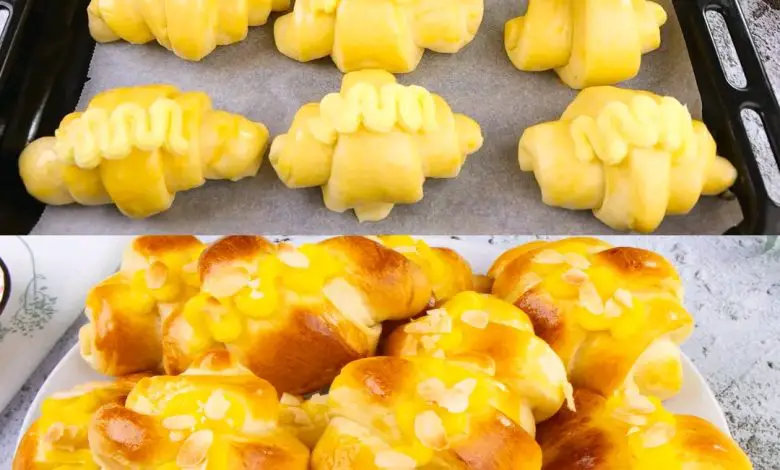 CREAMY CROISSANTS 😋
Ingredients For the mass:
320ml warm milk
18g fresh yeast
1 egg
90g of sugar
100ml seed oil
500g of flour
For the pudding:
320ml of milk
60g of sugar
50g vanilla pudding Egg + milk sliced ​​almonds Butter for brushing
Preparation:
1. In a bowl add the milk, yeast, egg, sugar, seed oil, and flour and mix. When the dough begins to form, knead with your hands to obtain a smooth dough. Cover with cling film and let rise for 2 hours, or until doubled in volume.
2. After the time has elapsed, transfer the dough to the work surface and roll it out in the shape of a rectangle. Add the dough, cover it with a cloth and let it rest for 10 minutes.
3. After 10 minutes roll out the dough to get a rectangular shape. Brush with butter and with the pizza cutter in 16 pieces. Roll them out to create a croissant shape.
4. Transfer the croissants to the parchment lined baking sheet, cover with a cloth, and let rest for 25 minutes.
5. In a saucepan add the milk, sugar and pudding and mix until the pudding is creamy and set. Transfer the pudding to the piping bag.
6. Brush the croissants with the egg + milk and add the prepared pudding on top. Finally, add the sliced ​​almonds on top.
7. Transfer the croissants to the oven and bake at 190°C/374°F for 30 minutes.