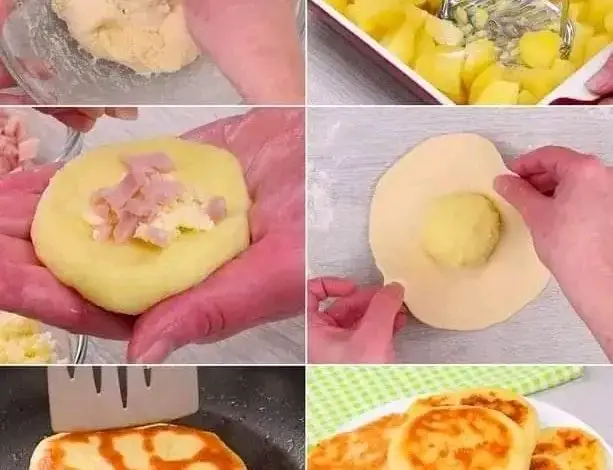 Stuffed cheese buns
INGREDIENTS Dough:
300g (2 2/5 cup) flour
100 ml (2/5 cup) lukewarm water
100 ml (2/5 cup) hot milk
7g dry yeast
5 g (1 teaspoon) sugar
2 g (½ tsp) salt
16 ml (2 tbsp.) olive oil
Filling:
450 g (1 pound) potatoes
2g (½ tsp) salt
100g of ham
100g of mozzarella
METHOD
Add warm water, yeast and sugar to the bowl. To mix together. Add flour, milk and knead the dough.
Add the oil, knead a little more and put the dough in an oiled bowl. Let stand 60 minutes. Cut the potatoes into chunks and put them in a baking dish. Cover with parchment paper and put in the microwave.
When the potatoes are cooked, salt and mash. Divide into 8 parts and make balls in which you will add cheese and ham.
When the dough has risen, divide it into 8 parts.
Roll out the dough with a rolling pin and fill it with a potato ball. Fry in an oiled skillet. Serve.