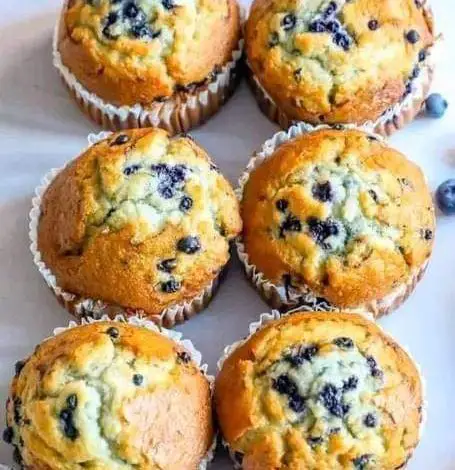 🌟 INGREDIENTS
◾️1½ cups all purpose flour (210g)
◾️¾ cup sugar (145g)
◾️⅓ tbsp baking powder
◾️¼ tsp baking soda
◾️¼ tsp salt
◾️¾ tbsp ground cinnamon
◾️5½ fluid ounced milk (150ml)
◾️1 large free range egg, lightly beaten
◾️120ml flavourless oil (½ cup)
◾️½ cup blueberries (95g)
◾️¼ cup raspberries (35g)
◾️¼ cup diced strawberries (35g)
🌟 INSTRUCTIONS
◾️Preheat the oven to 190°c.
◾️Line 9 medium muffin cups with paper liners. Set aside.
◾️Whisk the flour, baking powder, soda, cinnamon, salt and sugar together in a bowl.
◾️Make a well in the centre.
◾️Whisk together the milk, oil and egg.
◾️Pour into the well in the centre of the dry ingredients, and fold together just to combine.
◾️Fold in the berries.
◾️Divide the batter between the muffin cups, filling them ⅔ full.
◾️Bake in the preheated oven for 20 to 25 minutes or until the tops spring back when lightly touched and a toothpick inserted in the centre comes out clean.
◾️Remove from the muffin tin and place on a wire rack to cool.
I love you all