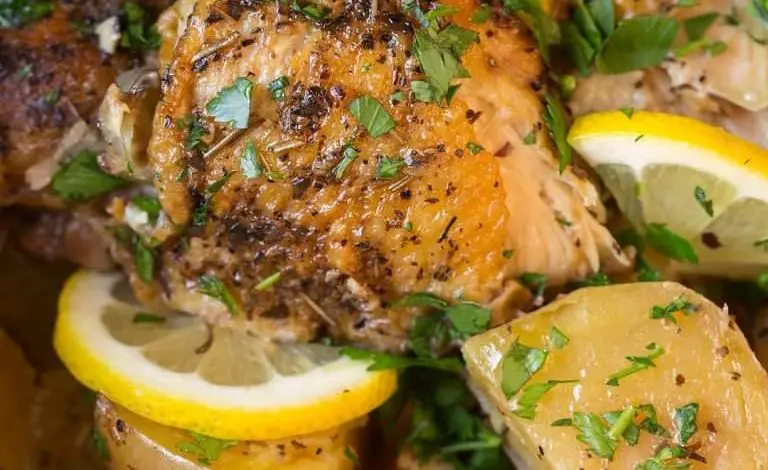 his Greek Slow Cooker Lemon Chicken and Potatoes has such a delicious bright flavor and it's oh so tender. A perfect meal for busy weekdays!
𝐈𝐧𝐠𝐫𝐞𝐝𝐢𝐞𝐧𝐭𝐬
• 2 lbs yellow potatoes, cut into large chunks (about 2-inches)
• 1/2 medium yellow onion, cut into chunks
• 5 cloves garlic, minced
• 2 1/2 tsp dried oregano
• 1 tsp dried basil
• 1 tsp dried rosemary, crushed
• Salt and freshly ground black pepper
• 3 lbs. bone-in, skin-on chicken thighs, trimmed of excess skin
• 1 1/2 Tbsp olive oil
• 1/2 cup chicken broth
• 3 1/2 Tbsp fresh lemon juice
• 2 tsp lemon zest, divided
• 3 Tbsp fresh parsley
𝐈𝐧𝐬𝐭𝐫𝐮𝐜𝐭𝐢𝐨𝐧𝐬
1. Place potatoes and onions in an even layer in a 6-quart slow cooker. Pour in chicken broth. Sprinkle with half the garlic, half the oregano, half the basil and half the rosemary then season with salt and pepper.
2. Heat oil in a large heavy bottomed pot over medium-high heat. Working in two batches, dab skin side of half the chicken thighs dry with paper towels, season with salt and pepper then sear in pot, skin side down, until golden brown, about 4 minutes. Transfer chicken to slow cooker over potato layer. Repeat with remaining thighs.
3. Slowly and evenly pour lemon juice over chicken thighs, then sprinkle in remaining half the garlic, oregano, rosemary and basil over chicken. Sprinkle 1 tsp lemon zest over chicken (reserve remaining 1 tsp in a container in refrigerator until ready to serve).
4. Cover and cook on low heat 5 1/2 – 7 hours. Serve warm spooning some of the slow cooker juices over each serving, sprinkle with fresh parsley and remaining 1 tsp lemon zest.