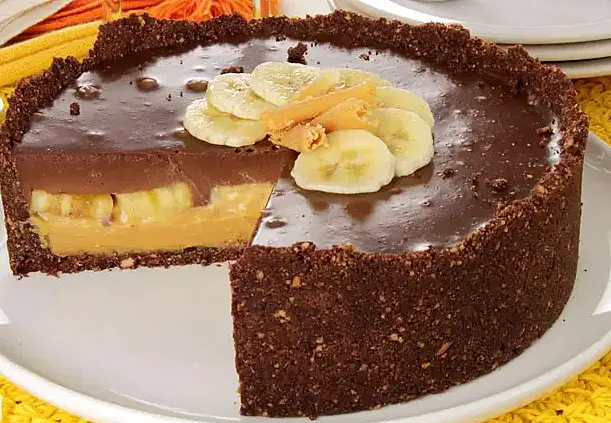 This banana chocolate cake recipe makes a delicious banana cake packed with chocolate chips for a delightful way to enjoy a classic flavor combination.
Ingredients
1 and 1/2 packet of crushed chocolate maisena biscoito (300g) 3 colheres (soup) of butter
1 clear 2 xícaras (chá) of twelve creamy milk
6 bananas in rounds Suco of
1/2 lemon
200g of melted milk chocolate
1/2 xícara (chá) of creme de leite Raspas de doce de leite cut to decorate
Preparation mode
In a tigela, mixture or biscoito, keep it clear until it forms a very moist farofa. Liner or bottom and sides in a removable ring shape of 24cm in diameter.
Mild in the medium oven (180º C), pre-baked, for 10 minutes. Remove and let cool. Sobre a massa, espalhe or twelve de leite. Mix the bananas with the lemon juice, separate some rounds to decorate and dispose of the remaining about or twelve of milk.
Leve à geladeira for 1 hour and 30 minutes. Mix the melted chocolate with the creme de leite and spread over the bananas.
Leve à geladeira for 30 minutes. Unformed, decorate with the reserved banana and raspas de doce de leite and serve.