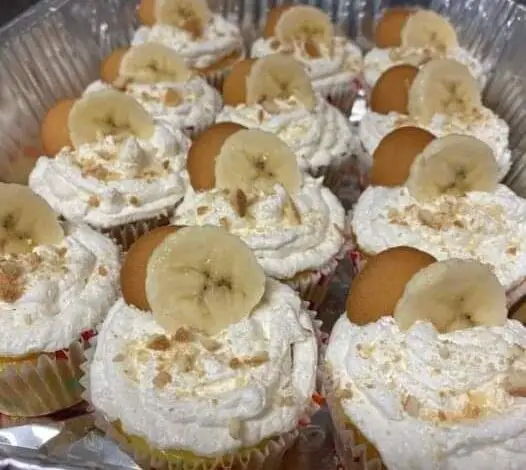 𝗜𝗻𝗴𝗿𝗲𝗱𝗶𝗲𝗻𝘁𝘀
𝗙𝗼𝗿 𝘁𝗵𝗲 𝗰𝘂𝗽𝗰𝗮𝗸𝗲𝘀:
• 3 cups all-purpose flour (12.75 oz)
• 1 1/2 teaspoons baking powder
• 3/4 teaspoon salt
• 12 tablespoons (1 1/2 sticks) unsalted butter, room temperature
• 1 1/2 cups sugar
• 4 large eggs
• 2 tablespoons pure vanilla extract
• 1 1/4 cups buttermilk
• 24 vanilla wafer cookies (or about 60 minis)
𝗙𝗼𝗿 𝘁𝗵𝗲 𝗯𝗮𝗻𝗮𝗻𝗮 𝗽𝘂𝗱𝗱𝗶𝗻𝗴:

• 2 1/4 cups whole milk
• 2/3 cup sugar
• 3 egg yolks
• 1/4 cup cornstarch
• 1 teaspoon vanilla
• 1 tablespoon butter
• 2 bananas
• For the whipped cream topping:
• 1/4 cup powdered sugar
• 2 1/2 teaspoons cornstarch
• 2 cups heavy whipping cream
• 1 teaspoon pure vanilla extract
• Banana slices and vanilla wafers for garnish (optional)
𝐈𝐧𝐬𝐭𝐫𝐮𝐜𝐭𝐢𝐨𝐧𝐬
𝐅𝐢𝐫𝐬𝐭 𝐦𝐚𝐤𝐞 𝐭𝐡𝐞 𝐏𝐮𝐝𝐝𝐢𝐧𝐠:
1. Combine 2 cups of milk and the sugar in a medium-sized saucepan over medium heat. Stir together and heat until simmering.
2. Whisk egg yolks together in a medium-sized bowl and slowly pour about half of the milk mixture into it with one hand while whisking with the other until combined. Pour the egg mixture back into the pot with the rest of milk.
3. In a small bowl combine the remaining 1/4 cup of milk with the cornstarch until thick and combined. Pour it into the milk mixture and turn the heat back up to medium. Whisk constantly until very thick and bubbling like lava.
4. Stir in the vanilla extract and butter until smooth and combined. Transfer pudding to a bowl, cover with plastic wrap directly onto the surface and chill in the fridge while you make the cupcakes.
𝗙𝗼𝗿 𝘁𝗵𝗲 𝗖𝘂𝗽𝗰𝗮𝗸𝗲𝘀:
1. Preheat oven to 350F.
2. Line cupcake pans with liners; set aside.
3. In a medium bowl, whisk together flour, baking powder, and salt.
4. In a large mixing bowl, cream the butter and sugar until light and fluffy. Add eggs, one at a time, beating well after each addition, mix in vanilla.
5. Add flour mixture and buttermilk alternately, beginning and ending with flour. Scrape down the bowl- don't over mix the batter.
6. Place a vanilla wafer into the bottom of each cupcake liner- or if using mini sized- break 2-3 apart so they fit into each liner. Divide batter evenly among liners, filling each about three-quarters full. Bake until tops spring back when touched, about 20 minutes. Transfer to a wire rack; let cool for 5 minutes and then remove from pan. Let cupcakes cool completely before filling/frosting.
𝗙𝗼𝗿 𝘁𝗵𝗲 𝘄𝗵𝗶𝗽𝗽𝗲𝗱 𝗰𝗿𝗲𝗮𝗺:
1. Place metal bowl and wire whisk beater or beaters in freezer to chill.
2. In a small saucepan stir together the powdered sugar and cornstarch. Slowly pour in 1/2 cup heavy cream and whisk until smooth.
3. Place on medium heat and stir constantly until mixture thickens and almost comes to a boil. (it will look pudding-like) Remove from heat, transfer to a small bowl and pop it in the freezer to chill while you start whipping the cream.
4. In the chilled bowl combine the remaining 1 1/2 cups of heavy cream and the vanilla and beat with the chilled whisk of your stand mixer (or hand mixer) until very soft peaks form. While still beating add the powdered sugar/cornstart mixture a little at a time. Beat until the mixture holds stiff peaks and seems spreadable. (Don't over-mix!)
𝐓𝐨 𝐀𝐬𝐬𝐞𝐦𝐛𝐥𝐞:
1. Chop the bananas into small pieces and fold into the chilled pudding.
2. Use a paring knife to cut a circle in the top of each cupcake with your knife at an angle making a cone-shape. Remove the cones and fill each cup cakes with a generous dollop of pudding- spreading it to the edges if desired.
Frost with whipped cream topping and top with a banana slice and vanilla wafer. (Banana slices will turn brown eventually so do this right before serving!