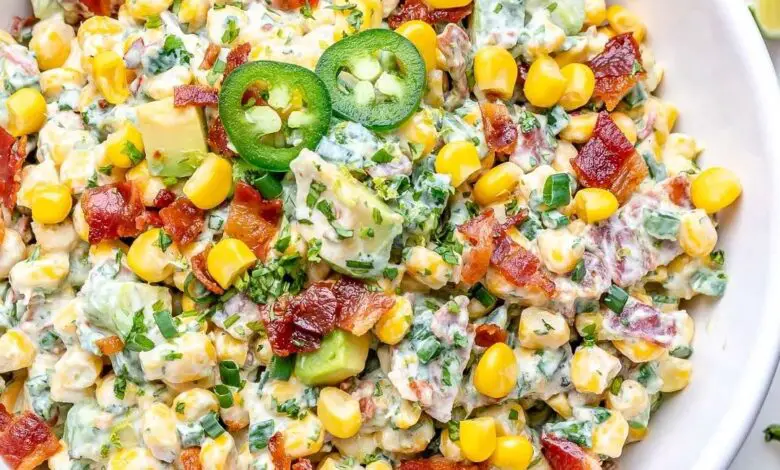 Ingredients:
6 strips nitrate-free bacon
4 green onions, thinly sliced
2 jalapenos, seeded and diced
2 large avocados, diced
a large handful of fresh cilantro, chopped
3 cups corn fresh or frozen, thawed
1/4 cup plain Greek yogurt
zest and juice of 1 large lime
1/2 tsp red chili flakes (optional)
sea salt and freshly ground black pepper, to taste about 1/2 teaspoon each
Instructions
• Preheat your oven to 375 degrees f. and line a large baking tray with parchment paper.
• Lay your bacon slices onto the prepared baking tray, with space in between. Bake for 18-20 minutes, or until crispy.
• Allow bacon to cool then chop it and transfer to a paper towel-lined plate. Set aside until ready to use.
• While the bacon is cooking, prepare the remaining ingredients.
• In a large serving bowl, add corn, avocado, green onions, jalapeño, cooked bacon, cilantro, yogurt, lime zest and juice.
• Sprinkle with salt & pepper to your taste.
• Stir gently, and thoroughly to combine.
• Enjoy immediately, or keep refrigerated in an air tight container for up to 3 days