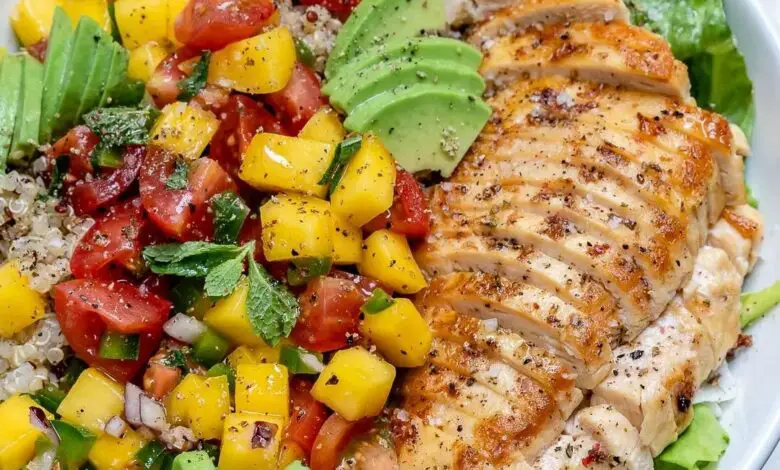 Ingredients:
2 skinless boneless chicken breasts, lightly pounded to an even thickness
2 Tbsp avocado or olive oil, divided
1 small ripe avocado, chopped or sliced
1 cup cooked quinoa, or brown rice
4 cups salad greens of choice
2-3 Tbsps fresh lime juice
Homemade Mango Salsa:
1 large ripe mango, peeled pitted and cubed
a small handful of fresh mint or cilantro leaves, chopped
1 cup chopped cherry tomatoes
1/2 small red onion, diced small
1 jalapeño, seeded and diced
juice of 1 fresh lime
pinch of sea salt and pepper
Raise your hand if you're dreaming about long SUN-shiny days of Summer?! ME.
Since we're not quite there yet, and there's no island vacations in my near future (hopefully there is in YOURS!), WE CAN make these bright Mango Salsa + Chicken Bowls.
ABSOLUTELY guaranteed to brighten up our dinner-game, and moods tonight!
Mango is low in calories yet high in nutrients especially vitamin C, which aids immunity, and iron absorption among other benefits!
Mango also contains several qualities that make it excellent for digestive health.
It contains digestive enzymes that help to break down food.
Mango also contains lots of water, and dietary fiber – all very necessary for healthy digestion.
Mango is also high in antioxidants.
So not only is mango completely DELICIOUS in our smoothies, salads, and salsas…but it's something we can feel GREAT about eating!
makes 2 servings/bowls