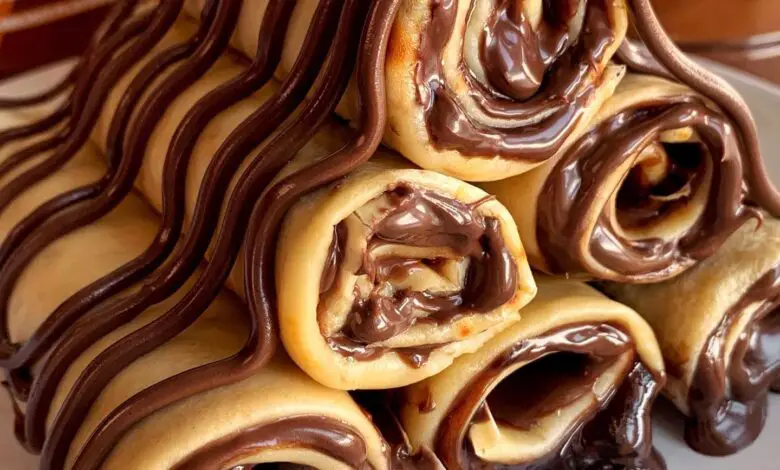 INGREDIENTS
FOR THE MASCARPONE FILLING:
1/2 cup heavy cream
16 ounces mascarpone cheese
1 teaspoon vanilla extract
1 1/2 cup powdered sugar
FOR THE CREPES:
4 large eggs
2 tablespoons melted butter
1 cup sugar
2 1/2 cups flour
4 tablespoons dark cocoa powder
4 cups cold milk
1 cup melted butter
INSTRUCTIONS
For the mascarpone filling:
Beat the mascarpone, whipping cream, and vanilla extract until smooth and creamy.
Add the powdered sugar 1/2 cup at a time until it begins to thicken yet still spreadable. It will be slightly heavier than a buttercream.
Refrigerate until ready to use.
For the crepes:
Combine the eggs with the next five ingredients (2 tablespoons melted butter through cold milk) in a blender and process until smooth.
Heat a 9.5 inch nonstick fry pan on medium heat. Brush with the remaining melted butter.
Pour 1/3 cup of the crepe batter into the pan and slowly rotate the pan in a counter clockwise motion allowing the batter to slowly fill the pan. Fill any gaps with additional drops of batter.
Cook 2 to 3 minutes or until slightly browned around the edges. Carefully flip the crepe over and cook an additional 1 to 2 minutes or until slightly browned on the other side.
Remove from the pan and keep moist with a damp paper towel on top.
Repeat with the remaining batter and butter until all the crepes have been made.
Assembly:
Spread enough filling to just cover one crepe. Top with another crepe and cover with just enough filling to cover.
Place the edge of the next crepe in the center of the first two stacked crepes and spread with enough filling just to cover. Place another crepe on top and cover enough filling to cover the crepe.
Continue placing and topping crepes with filling until you run out of room on your work surface.
Carefully begin rolling the stack of crepes, making sure to press them together as much as you can.
You can then shift the crepe cake roll down and continue topping and stacking crepes until you either tired or have used as many crepes as you want.
Place two pieces of plastic wrap on your work surface, overlapping. Carefully roll the crepe cake roll in the plastic wrap and twist the ends to tighten the cake roll. Refrigerate until you're ready to slice and serve.
Slice the rough edges off of each end with a serrated knife. Slice the chocolate crepe cake roll into 6 to 8 slices. 
Top with whipped cream, sprinkle with powdered sugar, or drizzle with sauce (chocolate, raspberry, strawberry, coffee, etc.) and serve.