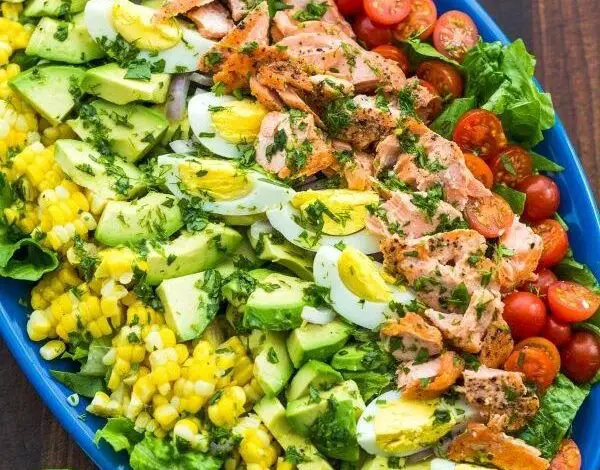 Ingredients
Ingredients for Pan Seared Salmon:
1 lb salmon, boneless, skinless (preferably wild-caught)
1 tsp sea salt
1/4 tsp black pepper
Ingredients for Cobb Salad:
1 large head of romaine lettuce, chopped, rinsed and spun dry
2 ears of corn, cooked, shucked and cut off the cob
1/2 medium red onion, thinly sliced
2 large hard-boiled eggs, peeled and quartered
1 large avocado, peeled, pitted and sliced
1 1/2 cups cherry tomatoes, halved
Ingredients for Cilantro Lime Dressing:
3 Tbsp fresh lime juice, from 1 to 2 limes
3 Tbsp extra virgin olive oil
2 Tbsp cilantro, chopped
2 Tbsp dill, chopped
1 large garlic clove, pressed or finely minced
1 tsp sea salt
1/8 tsp black pepper
Instructions
Season salmon generously with salt and pepper. Heat 1 Tbsp oil in a large non-stick skillet over medium-high heat. Once oil is hot add salmon, top-side down and cook until golden and crisp on the first side (4 minutes) then flip salmon and continue cooking another 4 minutes or until cooked through, depending on thickness of salmon.
Transfer to a plate and cool to room temperature then flake salmon with forks into bite-sized pieces.
Arrange romaine lettuce on a large platter or large shallow bowl.