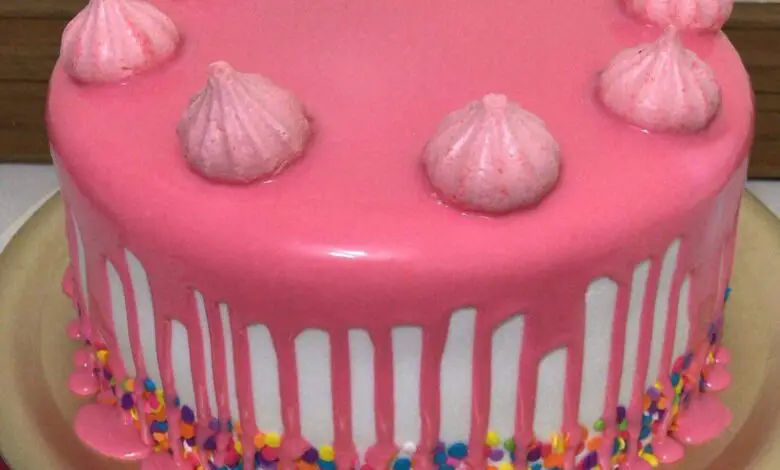 Ingredients
Pink Vanilla Cake Recipe
3 cups all-purpose flour (375g)
3 cups granulated sugar (600g)
2 1/2 tsp baking powder (10g)
1 tsp salt (5g)
1 cup unsalted butter, room temperature (226g) – 2 sticks
2 tsp vanilla extract (9g)
1 cup egg whites or about 7 egg whites (235g)
1 1/2 cups buttermilk, room temperature (360g)
2 Tbsp vegetable oil (28g)
Pink gel food coloring
Vanilla Buttercream Frosting
2 cups unsalted butter, room temperature (452g)
8 cups powdered sugar (1000g)
1/2 tsp salt (3g)
2 Tbsp heavy cream or whipping cream (30g)
1 Tbsp vanilla extract (12g)
Pink gel food coloring
Pink Drip Recipe
1/3 cup heavy cream (77g)
1 cup white chocolate chips (175g)
Pink gel food coloring
Additional Decorations
Pink Candies and Lollipops
Instructions
Pink Cake Layers
Preheat oven to 350°F / 175°C. Line three eight-inch pans with parchment rounds and grease with non-stick cooking spray.
Mix together the flour, baking powder, sugar, and salt in a stand mixer with a paddle or a large bowl with a whisk until fully combined.
Mix chunks of room-temperature butter slowly into the dry ingredients and mix on a low speed. Continue to mix until no large chunks of butter remain, and the mixture becomes crumbly.
Pour in egg whites and mix on low until just incorporated. Mix in the buttermilk in two installments on a low speed. Add in oil and vanilla extract, and mix at a low speed until fully incorporated.
Scrape down the sides of the bowl with a spatula as needed, then beat on medium speed for about 30 seconds.
Add in a generous squirt of pink gel food coloring. Mix the batter on a low speed, scraping the sides and bottom of the bowl part way through to evenly color the batter.
Divide batter evenly between the prepared cake pans. I like to use a digital kitchen scale to weigh my pans, and ensure they all have the same amount of batter. This guarantees the layers will bake to be the same height.
Bake for 34-36 minutes or until a skewer comes out with a few moist crumbs. Allow to cool for 10 minutes, then run an offset spatula around the perimeter of the pan to separate the cake from the pan.
Place cake layers into the freezer for 45 minutes to accelerate the cooling process.
Level the top of each cake layer with a serrated knife once they've fully cooled
Beat the butter on a medium speed for 30 seconds with a paddle attachment until smooth. Slowly add in the powdered sugar and mix in on a low speed. Alternate with small splashes of cream.
Once fully mixed, add in the vanilla and salt, and beat on low until the ingredients are fully incorporated, and the desired consistency is reached.
If the frosting is too thick, add in additional cream (1 Tbsp at a time). If the frosting is too thin, add in more powdered sugar (quarter of a cup at a time).
Wait to color the buttercream pink with gel food coloring until you've filled and crumb coated the cake. The white buttercream will create a pretty contrast with the pink cake layers.
Pink White Chocolate Ganache Drips
Heat heavy cream in a heatproof bowl in the microwave for 45 seconds, until it's just beginning to bubble. Gently pour white chocolate chips into the heavy cream, making sure they are fully covered with cream. Allow mixture to sit for 1 minute.