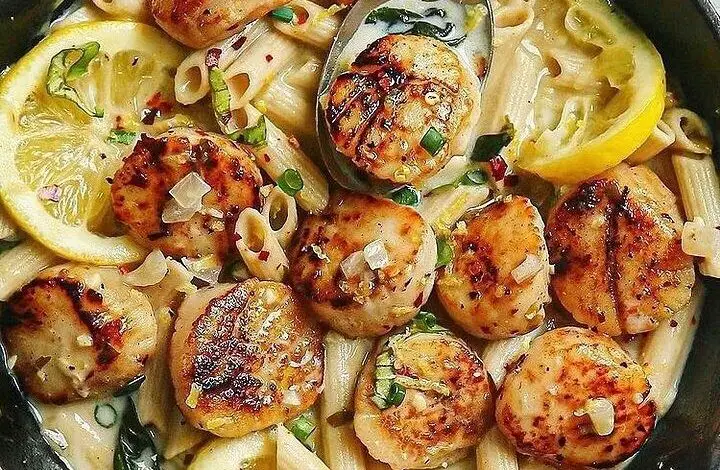 LEMON GARLIC CREAM SAUCE
Deets:
1️⃣1 pound wild scallops (thawed and dried: place on paper towel and pat dry, then season with salt, pepper and paprika and brush with a little honey).
2️⃣Heat 2 teaspoons ghee or coconut oil over medium high (I use cast iron) and sear the scallops for about 2 minutes per side (do this in batches to ensure you don't overcrowd them: that's how you get that sear!)
3️⃣Remove scallops from pan and set aside on a plate.
4️⃣Reduce heat to medium, add 1/3 cup diced onion and sauté for 2 minutes. Then add 3 cloves minced garlic and sauté for another minute. Next add 3/4 cup light canned coconut milk, 1 cup broth, 1/2 teaspoon of salt, 1/8 teaspoon pepper, 1 tablespoon lemon juice, 1 teaspoon lemon zest, 1/2 teaspoon honey, 1 tablespoon fresh chopped basil (use dried if you prefer), 1/2 tablespoon fresh chopped oregano.
5️⃣Increase heat and bring to a boil, then reduce to a simmer for 5 minutes. Stir in 1.5 tablespoon water mixed with 1.5 teaspoon potato starch (or tapioca or corn starch). Whisk and allow to thicken.
6️⃣Add the scallops back to pan and cook another minute. Add more salt if needed.

*️⃣Optional: toss with pasta, more fresh basil/scallions/lemon zest. ***if you just want the sauce then skip the first step and cook the onions and garlic in 1 tablespoon ghee.