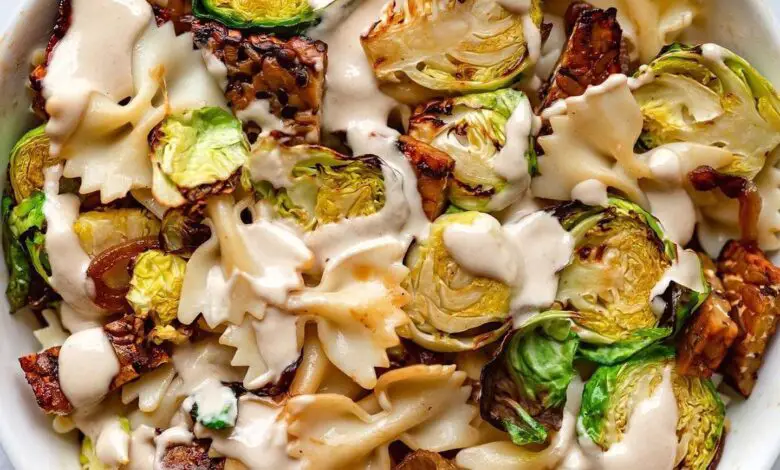 Marinade:
1/3 cup low sodium soy sauce or tamari
1/3 cup apple cider vinegar
1 ½ tablespoons maple syrup
¼ teaspoon garlic powder
¼ teaspoon ground cumin
¼ teaspoon smoked paprika
Pinch of chipotle powder
✅1 (8-ounce) packet tempeh, sliced into 12 thin rectangles
12 ounces Brussels sprouts, sliced thinly
Drizzle of olive oil
Salt and black pepper to taste
1 large yellow onion, sliced into half circles
Tahini Dressing:
1/3 cup tahini
3 tablespoons fresh lemon juice
1 tablespoon maple syrup
1 small garlic clove
✅Mix the soy sauce, apple cider vinegar, maple syrup, garlic powder, cumin, smoked paprika, and chipotle powder in a medium bowl. Transfer the tempeh rectangles to a baking dish or reusable container. Add the marinade and coat the tempeh evenly in the marinade. Set aside for at least 20 minutes.
✅Preheat the oven to 425ºF.
✅Cook the pasta according to the directions on the packet until al dente.
✅Toss the sliced Brussels in olive oil to coat. Season with salt and pepper. Roast for about 10 minutes, or until crispy. Set aside.
✅Transfer the tempeh to a large baking sheet and place in a single layer. Bake for 10 minutes. Flip the tempeh over and bake for about 10 minutes more, or until crispy. Or air-fry the tempeh for about 7 minutes, or until crispy. Slice the tempeh into small squares.
✅Meanwhile, heat a drizzle of olive oil to a large skillet over medium-high heat. Cook the onion for about 7 minutes, or until browned. Add the remaining marinade form the tempeh and cook for 3 minutes more.
✅Add the tahini, lemon juice, and maple syrup to a medium bowl. Grate the garlic into the bowl using a microplane or fine grater. Add about 5 tablespoons water, or until the desired consistency.
✅In a large bowl, mix the pasta, tempeh bacon, Brussels sprouts, and caramelized onion. Serve and drizzle with the desired amount of tahini dressing.