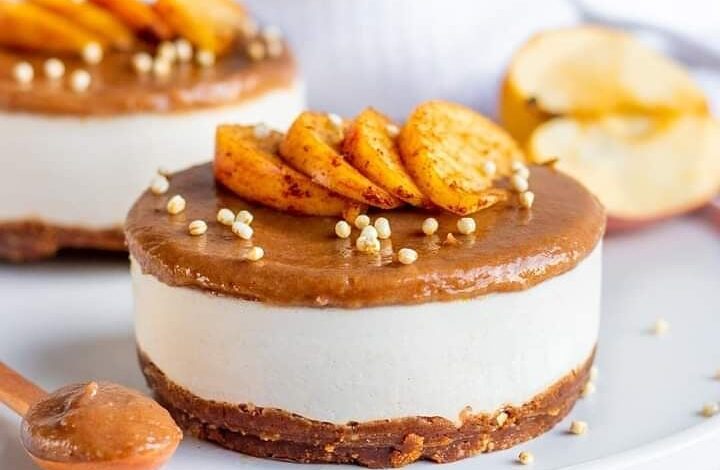 𝗜𝗡𝗚𝗥𝗘𝗗𝗜𝗘𝗡𝗧𝗦
Cheesecake Ingredients:
250g cashews (soaked overnight)
2 tbsp cacao butter
1 can full fat coconut milk
1 tsp cornflour
2 tsp condensed coconut milk
2 tbsp Apple Sauce
1 tsp Koro Maple Syrup
1 tsp vanilla
1 tsp agar powder
Base Ingredients:
1 cup vegan biscuits
1/4 cup vegan butter
Caramel syrup:

200g date paste
3 tbsp maple syrup
200ml non-dairy milk
𝗠𝗘𝗧𝗛𝗢𝗗
1. Blend soaked cashews with melted cacao butter & blend for around 2-3 minutes.
2. To make the base, add the biscuits into a ziplock bag. Using a rolling pin break up the biscuit into fine crumbs. Melt vegan butter in a bowl and then add biscuits.
3. Line a 4″ inch rounded tin with a removable base with parchment paper. To form the base, press the biscuit mixture firmly around the tin and ensure it is flat.
4. In a pan, heat coconut milk, coconut condensed milk, apple sauce, cornflour, and vanilla essence. Add the agar powder when the milk is warm. Then once the coconut milk reaches boiling point, whisk the agar for 1 minute.
5. Add the mixture into the blender and blend until smooth.
6. Pour the cheesecake mixture into the tin. Leave to cool & then transfer into the freezer.
7. Add all the ingredients for the caramel sauce onto the hob at medium heat for 5 minutes.
Transfer the sauce into the blender & blend until smooth. If lumps remain, strain the mixture.
8. Remove the cheesecake from the freezer & pour on the caramel sauce.
9. Leave to set in the freezer for an hour.
10. Remove from the freezer & defrost before eating.