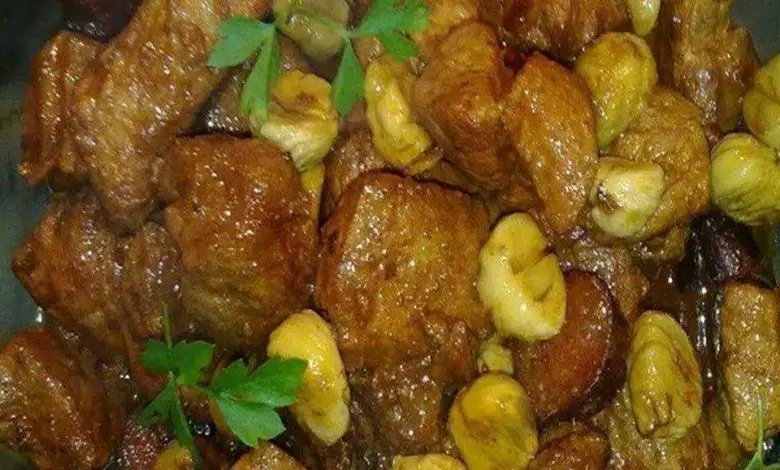 ROASTED MEAT WITH CHESTNUTS
Roasted meat with chestnuts is a delectable dish that combines the savory flavors of tender, succulent meat with the earthy and nutty notes of roasted chestnuts. This dish is often prepared during the fall and winter months when chestnuts are in season.
Ingredients:
Pork loin: 1 (1,600 kg)
Chestnuts: 1/2 kg
New potatoes, for roasting: 20
Large onion: 1
Rosemary: To taste
Laurel: 3 Leaves
Garlic head: 1
Tomato pulp: 3 tablespoons
Pepper paste: 2 tablespoons
Salt and pepper: q.s.
Olive oil: A drizzle
White wine: 5 tablespoons
Muscat: 3 tablespoons
Meat broth: 1 Ladle
Quince jelly: 1 teaspoon
Garlic Butter: 1 Teaspoon
Method of preparation
The day before, season the meat with the pepper paste, salt, pepper, bay leaves, garlic, rosemary and wine. Reserve the marinade.
The next day, add the olive oil to the pressure cooker. When it is hot, carefully place the loin in and turn until all the meat is sealed around it.
Remove the meat and set aside.
Add the sliced ​​onion, tomato, jelly and meat marinade, as well as meat broth, to the already used olive oil. When it is boiling, add the meat again, cover the pan and let it cook for one hour.
Remove the meat to a pyrex dish and lightly cook the potatoes in the sauce left in the pan (with the pan open, to cook the sauce).
Remove the potatoes and add them to the meat. Also add the cooked and peeled chestnuts (which can be frozen). Spread the meat with the sauce and then with garlic butter, adjust the seasoning and bake on the grill until the potatoes are completely cooked.