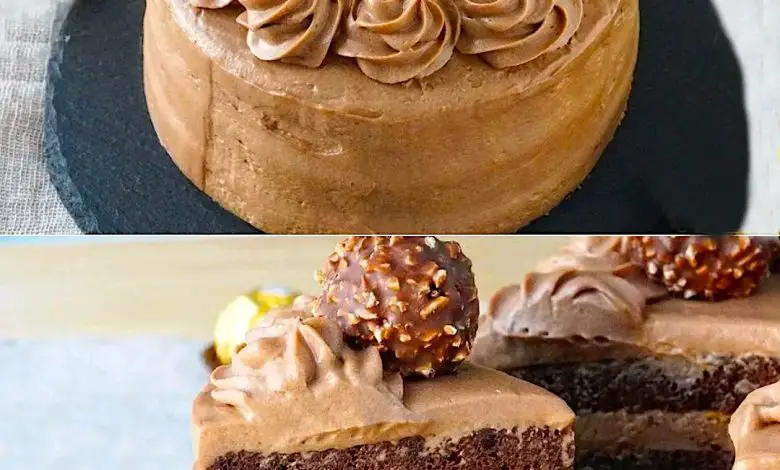 CHOCOLATE AND HAZELNUT CAKE
Chocolate and hazelnut cake is a delectable dessert that combines the rich, indulgent flavor of chocolate with the nutty goodness of hazelnuts. This irresistible treat typically features layers of moist chocolate cake infused with hazelnut cream or ganache, creating a harmonious balance of sweet and nutty flavors.
Ingredients:
To beat:
50g seed oil
55g dark chocolate
35g milk
15g cocoa powder
60g "00" flour
15g milk
4 eggs
65g sugar
Nutella cream:
300g mascarpone
150g Nutella
100ml cream
40g powdered sugar
30g toasted hazelnuts
Cocoa bath:
50g of water
3g cocoa
10g sugar
Decorations:
Nutella frosting
Ferrero Rocher
Indications:
1. Batter: melt the chocolate in a bain-marie with the oil and milk. Then add the egg yolks, sugar, cocoa and flour. Separately, beat the egg whites until stiff and add to the rest of the mixture. Pour the mixture into a mold and bake at 150 degrees for 55 minutes.
2. Cream: mix the mascarpone with the Nutella and then add the cream, icing sugar and mix. Put the mixture in the pastry bag.
3. Soak: dissolve cocoa and sugar in water.
4. Now assemble the cake, decorate it and enjoy it.