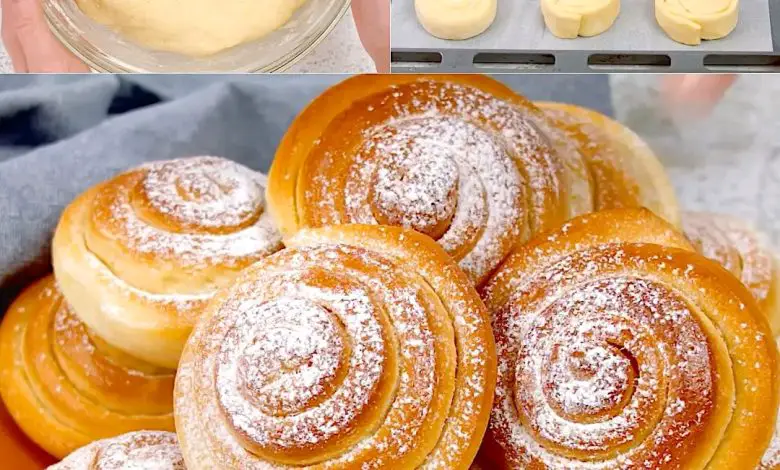 MALLORCA BREAD
Mallorca bread, a beloved traditional Spanish pastry, is a true delight for the senses. This sweet, fluffy bread is often enjoyed as a breakfast treat or a midday snack. Its signature feature is the generous dusting of powdered sugar on top, which adds a touch of sweetness and a delightful contrast to the soft, pillowy texture of the bread.
Ingredients:
7g dry yeast
125 ml of water
185 ml milk
125 ml melted butter
60g sugar
1/4 teaspoon salt
3 egg yolks
540g all-purpose flour
Melted butter
whole cream
Preparation:
1. Whisk 1 tablespoon sugar and dry yeast in warm water. Set aside for 10 minutes.
2. Add warm milk to the yeast solution, then whisk in the egg yolks, leftover sugar, and melted butter.
3. Add flour and salt to the liquid mixture and mix until dough forms.
4. Cover and set the dough aside for 1 hour.
5. Roll out the dough into a rectangle, brush with a little more butter and cut into 12 strips.
6. Roll each strip into a bun as shown in the video. Set aside for 1 hour to puff, then brush with cream and bake at 180C/350F for 15-20 minutes, until golden. Sprinkle with powdered sugar before serving.