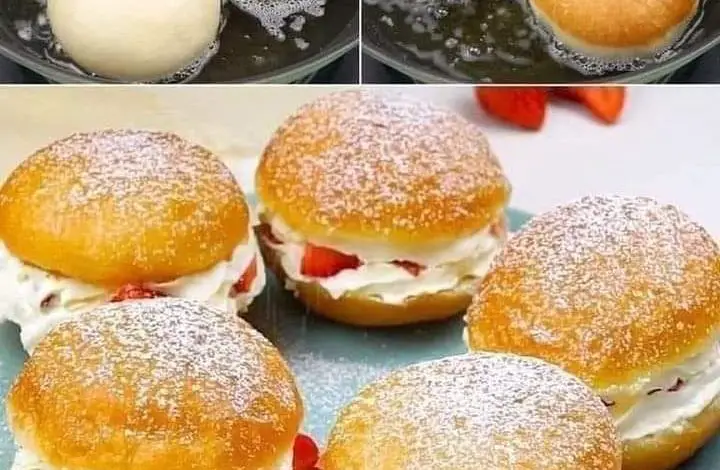 Strawberry bombs
Strawberry bombs are delightful treats that burst with the sweet and tangy flavor of ripe strawberries. These delectable confections consist of a luscious strawberry filling encased in a thin, crisp shell.
INGREDIENTS :
300g (2 cups) flour
1 egg
45g (1/4 cup) sugar
pinch of salt
7g dry yeast
40g softened butter (1/4 cup)
Warm milk, 140ml (3/5 cup)
For embellishment:
Whipped cream
Chopped strawberries
Powdered sugar
HOW TO MAKE STRAWBERRY BOMBS
Stir the sugar, yeast, and milk together in a medium bowl until the yeast is dissolved.
Whisk in egg. Add the flour and salt, and then use a spatula to start mixing the dough. Then keep working it with your hands until you get a dough that can stretch.
Add softened butter and continue to knead the dough until the butter is completely incorporated.
The dough should be rolled into a ball, covered with plastic wrap or a kitchen towel, and allowed to rise for an hour.
Make eight balls out of the dough by dividing it into eight pieces. For 30 minutes, cover and allow to sit.
Flatten each ball a bit and then roll it back into a ball. Cover and let sit for 30 minutes more.
Fry balls in hot oil on low for 2 to 3 minutes on each side.
Let it cool for a bit, then cut it in half like a burger bun.
Put whipped cream and chopped strawberries on one half, close the other half on top, sprinkle with powdered sugar, and serve.