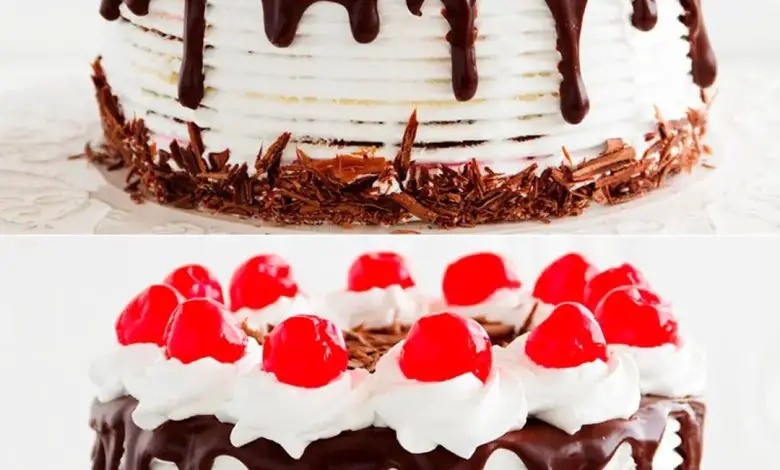 Black Forest Cake
Black forest cake is a classic German recipe that has become very popular around the world for its combination with chocolate, white cream and cherries. If you want to learn how to make this cake authentically, then follow this simple recipe.
Ingredients
To make this recipe you need some pretty specific ingredients, but they are not very difficult to find. And depending on the part of the cake, this is what to use:
For the Genoese sponge cake
• 120 grams of sugar.
• 90 grams of flour.
• 30 grams of cocoa powder.
• 4 eggs (separating the yolks from the whites).
• ½ teaspoon of salt.
For the cream
• 1 liter of cream to beat.
• 100 grams of sugar.
For the syrup
• 100 ml of water.
• 75 grams of sugar.
• 2 tablespoons Kirsch liqueur (or other cherry liqueur).
For the filling
• 300 grams of cherries.
• 2 tablespoons of sugar.
• 2 tablespoons of cherry liqueur.
• 50 grams of chocolate flakes.
• Sugar glass.
Steps
If you want to make black forest cake perfectly, you must first collect the ingredients in exact quantities and then carefully follow each step. Each is carefully detailed below:
Step 1
Preheat the oven to 180ºC. For the cake, beat the egg whites until stiff in a container. In another bowl, beat the yolks with the sugar until foamy.
It is covered with the second level and the previous step is repeated.
Step 11
Cover it with the last level and spread the rest of the chantilly cream over the entire surface of the cake. Then the chocolate flakes are sprinkled and decorated with the stored cherries.
And so the black forest cake is ready, which, although it has a somewhat long process, is a true delight. This is ideal for special occasions, accompanied by a hot drink or a good liquor. Try it and enjoy.