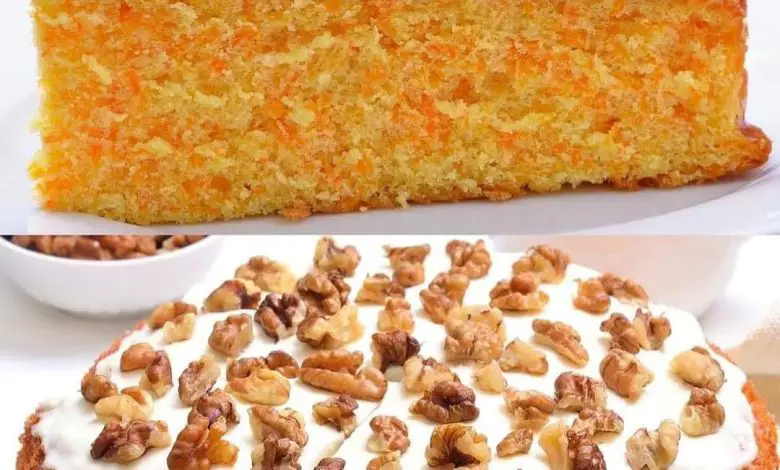 CARROT AND PINEAPPLE CAKE
Carrot and pineapple cake is a delightful dessert that combines the natural sweetness of grated carrots with the tropical tang of crushed pineapple. This moist and flavorful cake is typically made by mixing these key ingredients into a spiced batter, often including cinnamon and nutmeg.
🥕Ingredients🥕
250 grams of all-purpose wheat flour
2 teaspoons baking soda
1 teaspoon Royal yeast
1 teaspoon salt
2 teaspoons ground cinnamon
350 grams of white sugar
250 ml sunflower oil
3 eggs
1 teaspoon vanilla extract
3 large or 4-5 small carrots, grated
75 grams of grated coconut
100 grams of chopped walnuts
1 can of pineapple in syrup, drained and crushed
1 package of Philadelphia cheese
50 grams butter, softened
250 grams of powdered sugar
🥕Preparation🥕
1. Preheat the oven to 180ºC with heat from above and below. We spread butter and flour a 22 x 33 centimeter mold.
To make the cake:
2. Mix the flour, baking soda, yeast, salt and cinnamon in a bowl. We make a well in the center and inside we add the sugar, oil, eggs and vanilla extract.
3. Mix all the ingredients with a wooden spoon until smooth. Add the grated carrots, coconut, chopped walnuts and crushed pineapple and stir everything again so that it is completely integrated.
4. We pour the mixture into the mold that we previously prepared and place it in the hot oven for 45 minutes, until a toothpick inserted in it comes out clean.
5. We will see that the center sinks a little, but it doesn't matter, it is normal. We take out the cake and let it cool on a rack for a few minutes. Then we unmold it and wait for it to cool. While we wait, we can make the glaze.
To make the glaze:
6. Beat the cream cheese with the butter with a whisk until smooth. Add the sugar and beat again until it has a creamy consistency.
7. When the cake is cold (we can put it in the refrigerator for a while to speed up the process) we spread the glaze on top and smooth it out.