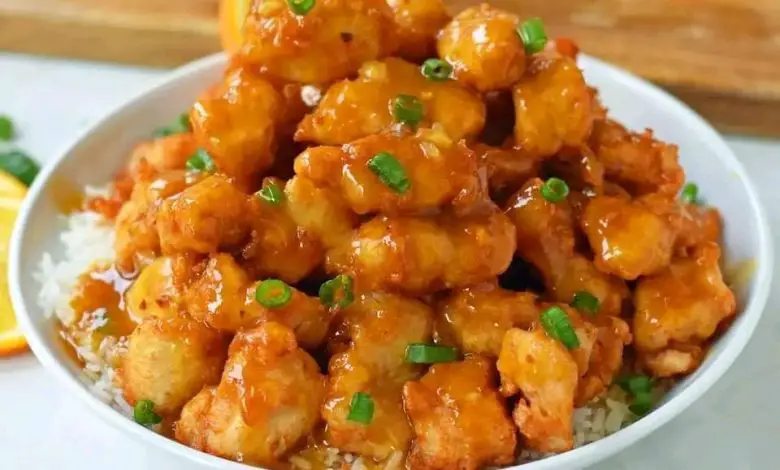 ORANGE CHICKEN
Orange chicken is a popular Chinese-American dish made with crispy fried chicken tossed in a sweet and tangy orange sauce. It is a relatively easy dish to make at home, and the results are sure to please.
Ingredients:
– 2 chicken pieces
– 1 orange
– 1/2 lemon
– 2 tablespoons of vinegar
– 3 tablespoons of soy sauce
– 1 tablespoon orange zest
– 2 tablespoons of brown sugar
– 1/2 teaspoon ground ginger
– 1 teaspoon of garlic powder
– 2 tablespoons of water
– 1 tablespoon of cornmeal
– Flour to coat the chicken
– Salt
– Ground pepper
– 3-4 tablespoons of sunflower oil
Preparation:
We start by squeezing the orange and lemon, and reserving the juice. Before we must grate the orange and also reserve the skin.

Season the chicken by cutting it into pieces and pass it through flour. In a frying pan, heat a little oil and fry the chicken.
We reserve the chicken separately. Now, in the same oil, add the orange zest, the reserved juice, the ginger, the sugar, the soybeans, the vinegar and the garlic powder, and let it boil for a couple of minutes.
Add the chicken and leave for a few minutes.
Dilute the cornmeal in the water and add it to the chicken, waiting for it to thicken. Remove from the heat and that's it.