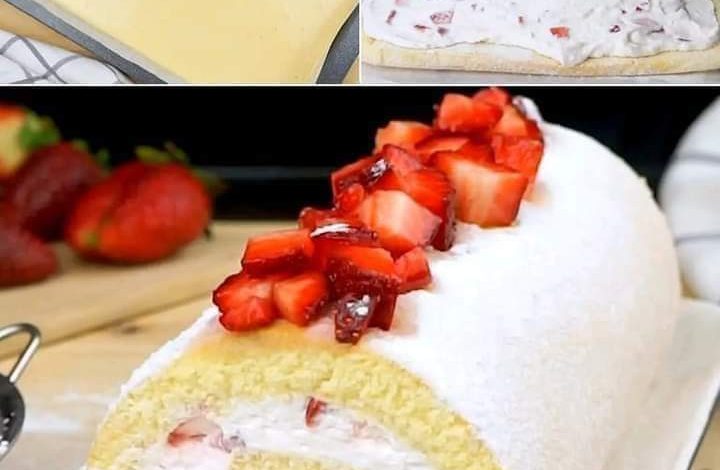 STRAWBERRY CAKE ROLL
Strawberry cake roll is a delicious and impressive dessert that is perfect for any occasion. It is made with a light and airy sponge cake that is rolled up with a creamy strawberry filling. The cake is then frosted with whipped cream and topped with fresh strawberries.
Ingredients:
Unsalted butter, for bread
8 large eggs, at room temperature, separated
1/2 cup granulated sugar
1/2 tablespoon vanilla extract 1/2 cup cake flour
2 tablespoons of baking powder
1 liter of milk cream, whipping cream (heavy cream)
2 tablespoons of icing sugar 500 gr. washed and disinfected strawberries
Preparation:
1.Preheat the oven to 200°C.
2.Put buttered waxed paper in a 15 x 10 x 1″ mold and set aside.
3.For eggs we must separate the yolks from the whites.
4.In a large bowl, beat the egg yolks with the sugar until light in color, about 1 minute.
5.Add 1/2 tablespoon vanilla, baking powder, cake flour and beat until well integrated.
6.In the mixer we put the egg whites and beat until stiff.
7.Then we incorporate the flour in an enveloping form.
8. We put the mixture in the mold previously prepared with waxed paper and bake for approximately 20 min.
9.You have to even out the mixture as much as possible so that the whole cake is the same thickness.
10.Meanwhile, set aside 6 strawberries for garnish.
11. Finely slice the remaining strawberries.
12.We beat the milk cream at medium speed.
13. Little by little we add the vanilla and 2 tablespoons of icing sugar.
14.Continue beating until soft peaks form.
15. Reserve half of the mixture. Gently incorporate the cut strawberries into the other half, with enveloping movements.
16.Place a clean kitchen towel flat on a work surface or on the table to roll the cake.
17. Generously sprinkle the kitchen towel with icing sugar.
18. Turn the cake over on the towel, remove the baking tray, and remove the waxed paper that we previously placed in the mold.
19.Using the kitchen towel, we roll the cake towards us and then let it cool.
20.When it is cold, unroll it, the cake, and place the whipped cream mixture on it trying to make it evenly distributed over the surface of the cake and then roll it up again.
21.Now place on a serving plate and evenly spread the reserved whipped cream over the top and sides of the cake.
22.Finally we decorate with strawberries cut in half.