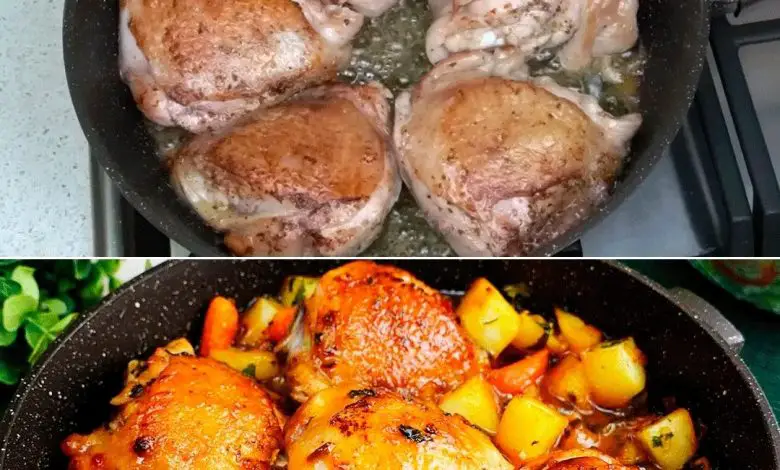 CHICKEN STEW WITH POTATOES AND VEGETABLES
• For a thicker stew, you can add a slurry of 1 tablespoon of flour whisked into 1/4 cup of cold water. Stir the slurry into the stew and cook for a few minutes more, until thickened.
Ingredients:
5 chicken thighs
1 carrot
1 onion
3 garlic cloves
2 ripe tomatoes
1 chicken stock cube
4 medium potatoes
1 glass of white wine
4 tablespoons of olive oil
1 sprig of thyme
1 tablespoon cornstarch
Salt
Pepper
virgin olive oil
Water
Preparation:
1. To prepare a delicious chicken in sauce with potatoes, first season the pieces with salt and pepper and brown them in a frying pan with a drizzle of olive oil. If you don't remove the skin from the chicken it will be juicier, but you can leave it off if you want.
2. Brown the chicken in a skillet with a drizzle of olive oil over medium heat. When it is ready we take it out and reserve it.
3. In the same oil, saute the finely chopped onion and garlic. Halfway through cooking we add the carrot so that it is done with the rest of the vegetables. Cut it into small cubes.
4. When they are poached, add the crushed tomato and the chicken broth pill. When it is fried, we put the glass of white wine and let the alcohol evaporate.
5. Then we add a tablespoon of cornstarch, stir well and move to a pot or casserole along with the chicken to cook it.
6. Add a sprig of thyme and cover with water. Let it cook over medium heat for about an hour and then add the potatoes.
7. Again we will let cook for about 20 minutes until the potatoes are tender. We rectify salt and put out the fire.
8. We let rest and serve.