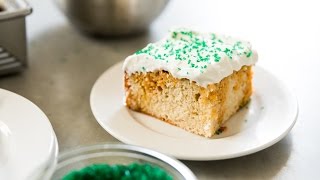 Irish Cream Tres Leches Cake
Tres leches cake is traditionally a very moist cake with a filling that soaks into the cake as it chills. But this recipe adds a bit of extra flair with Irish cream to make a boozy sauce that's even more delicious. Serve this up for St. Patrick's Day or any holiday. Everyone will love it!
Ingredients
For the cake
• ▢12 tbsp unsalted butter room temperature
• ▢1 ¾ cups white granulated sugar
• ▢4 large eggs
• ▢2 tsp vanilla extract
• ▢2 ¼ cups all-purpose flour
• ▢3 tsp baking powder
• ▢½ tsp kosher salt
• ▢½ tsp cinnamon
• ▢1 cup whole milk
For the milk mixture
• ▢1 cup whole milk
• ▢1 14-oz can dulce de leche (can also use sweetened condensed milk)
• ▢¾ cup Irish cream liqueur
For the frosting
• ▢2 cups heavy whipping cream
• ▢2 tbsp Greek yogurt
• ▢¼ cup powdered sugar
• ▢1 tsp vanilla extract
Instructions
For the cake
Step one : Preheat oven to 350°F. Butter a 9×13 baking dish and set it aside.
Step two : In the bowl of an electric mixer, cream the butter and sugar until light and fluffy, 5 minutes. Add the eggs one by one, letting them incorporate after each addition. Once the eggs are incorporated, mix in the vanilla extract.
Step three : Separately, combine the flour, baking powder, cinnamon, and salt. Alternately add the dry ingredients with the milk, beginning with the dry and ending with the milk. Do not over-mix after the milk is added. A few lumps are ok. Finish mixing with a spatula to ensure the bottom of the bowl is evenly mixed.
Step four : Once the cake has chilled, combine the heavy whipping cream, Greek yogurt, powdered sugar, and vanilla extract. Whip until the heavy cream is thick and holds stiff peaks, 2-3 minutes. Spread the whipped cream mixture over the cake and serve. The cake can be frosted and chilled overnight.