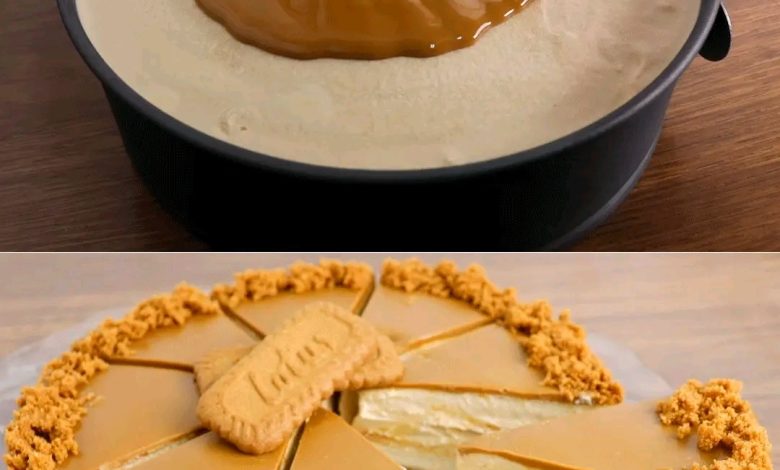 LOTUS BISCUIT CHEESECAKE 😋

Ingredients

Base:
250 g Lotus biscuits
90g butter
Stuffed:
14 g powdered gelatin
70g water
240 g cold whipping cream
85g icing sugar
540 g regular Philadelphia cream cheese
1 teaspoon vanilla paste
200 g Lotus biscuit cream

Coverage:

200 g Lotus biscuit cream
3-4 crushed Lotus cookies

Preparation

Base:
Crush the Lotus cookies, we did it with the Thermomix.
Melt the butter and add it to the crushed biscuits. Stir until homogeneous.
Use a removable 20 cm mold. Put baking paper on the base or, better yet, a cardboard disk (it will be easier to remove the cheesecake from the mold once done). Place the mixture in the base of the mold, pressing with your fingers and leave in the fridge while we make the filling.
Stuffed:
Mix the powdered gelatin and water in a glass. Let rest 10 minutes.
Whip the cream until soft peaks form. Add the sugar and beat for another 20 seconds.
Beat cheese, vanilla, and biscuit cream until light and smooth. If it is done in a kitchen robot, use the flat blades and beat at a slow speed, so that no air enters. Add the cream little by little, stirring at slow speed until the cream is homogeneous.
Put the glass with gelatin in the microwave for 15 seconds. Wait a couple of minutes so that it is not so hot and add two tablespoons of the mixture to the gelatin. Stir gently until just combined. Pour the gelatin into the rest of the mixture and stir again.
Pour into the mold, smooth the surface with a kitchen spatula and leave in the freezer for 30 minutes.
Coverage:
Melt the biscuit cream in the microwave and pour over the cake.
Leave the cake in the fridge for at least 6 hours. Decorate with crushed cookies around the edges of the surface, dusting them with your fingers.