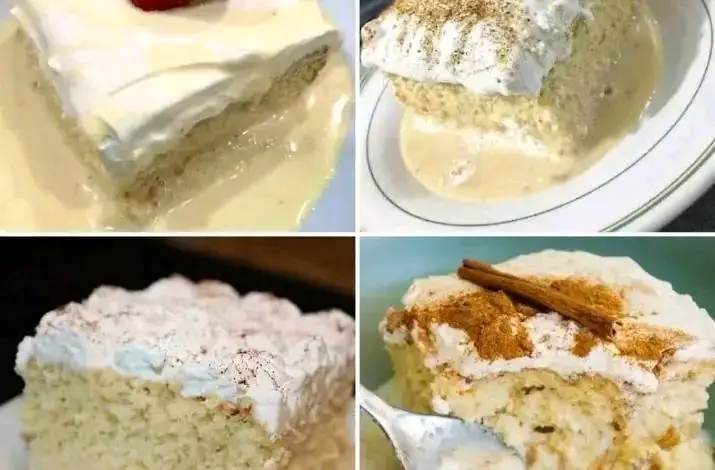 Three milk cake 😋😋😋🍰🍰🍰
Ingredients:

3/4 cups butter
1 1/2 cups sugar, refined
9 egg yolks
1 Teaspoon vanilla extract
2 cups flour
1/2 teaspoons of baking powder
1 cup of cow's milk
9 egg whites
1 teaspoon cream of tartar
2 cups of whipping cream
1 can of cream, evaporated, (156 gr)
1 can of condensed milk, (397 gr)
2 cups of heavy cream
1 cup of sugar

Preparation:
Preheat the oven to 175°C. Grease and flour a square pie dish.
Beat the sugar and butter in a large bowl until light and fluffy. Add the egg yolks one at a time, beating well after each addition. Add the vanilla. Sift together the flour and baking powder. Add this flour mixture to the bowl, alternately with the milk. Beat well after each addition.
In a glass or metal bowl, beat the egg whites along with the cream of tartar until stiff peaks form. Carefully fold the whites into the cake mix, using a flexible spatula. Pour the mixture evenly over the greased cake.
Bake for 25 to 30 minutes, or until a toothpick inserted into the center of the bread comes out clean. Remove from oven and let cool.
In a small bowl, mix the 2 cups of heavy cream and the evaporated and condensed milk. Pour the mixture over the cake until the cake can absorb no more. You'll probably have a bit left over, but it's normal.
Whip cream and sugar together and spread over cake. Refrigerate until serving. If desired, you can spoon some of the remaining milk mixture onto individual plates before serving the cake.