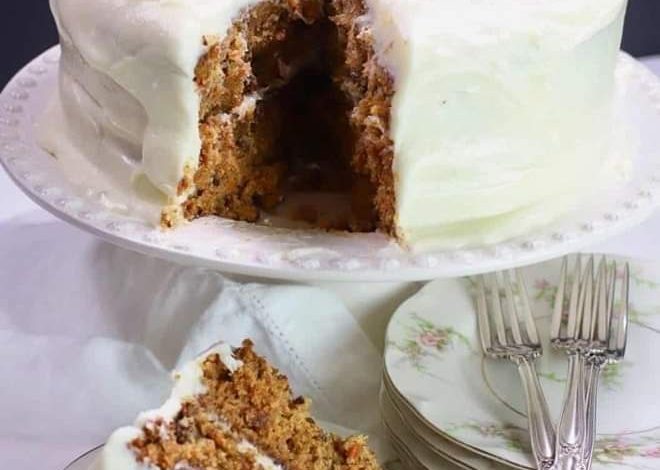 Best Ever Carrot Cake and Easy Cream Cheese Icing
Ingredients
Carrot Cake Ingredients
2 cups granulated sugar
1⅓ cups vegetable oil
3 extra-large eggs at room temperature
1 teaspoon pure vanilla extract
2½ cups plus 1 tablespoon all-purpose flour divided
2 teaspoons ground cinnamon
2 teaspoons baking soda
1½ teaspoons kosher salt
1 cup raisins
1 cup chopped pecans
1 pound carrots grated
½ cup canned crushed pineapple drained
Cream Cheese Icing Ingredients
12 ounces cream cheese at room temperature
8 ounces unsalted butter at room temperature
1 teaspoon pure vanilla extract
16 ounces confectioners sugar sifted
Instructions
Carrot Cake Directions
Preheat the oven to 350 degrees F.
Butter two 9-inch round cake pans and then sprinkle with flour. Tap the pans to distribute the flour and swirl them around to spread it out so that it covers the surface of the pan. Pour out any excess flour. Set aside.
Add the sugar, oil, and eggs to a large bowl and beat using an electric mixer until the mixture is light yellow. Add vanilla and mix well.
In a medium-size bowl, add two and one-half cups of flour, cinnamon, baking soda, and salt. Use a whisk or fork and mix well.
Add the dry ingredients to the wet ingredients and use an electric mixer to mix everything. The batter will be thick. Set aside.
In a small bowl, add the raisins and nuts and sprinkle with one tablespoon of flour. Toss to coat everything.
Add the raisin mixture, shredded carrots, and pineapple to the batter and mix again to combine.
Divide the batter between the two prepared cake pans and lightly tap the pans on the counter to remove any air bubbles.
Bake for 45 to 55 minutes or until a toothpick inserted in the center of each cake comes out clean. Allow them to cool completely in the pans set on a wire rack.
Cream Cheese Icing Directions
Add the cream cheese, butter, and vanilla to a large bowl and mix using an electric mixer until everything is smooth and creamy with no lumps. Add the confectioners' sugar and keep mixing until the icing is soft and fluffy – this will take about four minutes.
Assembly
Place a dollop of icing in the center of a large plate to keep the cake from sliding around. Top that with the first layer, flat side up. Use a knife or offset spatula to spread about one-third of the icing over the top.
Place the second layer round side up on top of the first layer. Spread the frosting evenly on the top and sides of the cake.
Serve immediately and enjoy.
Notes
You can use either a box-type grater or your food processor to grate the carrots. I usually use a food processor, which takes seconds to complete this task.
Do not use pre-packaged shredded carrots. This recipe works best with freshly grated carrots, and they are one of the reasons it's so moist. I wash my carrots thoroughly before grating, but I don't peel them. However, feel free to peel yours if you like.
When greasing your pans, you can substitute sugar for the flour if you prefer. You can also use a non-stick baking spray that contains flour.
This recipe is enough to make two nine-inch cake layers, or you can use a 9×13 inch baking pan and make a sheet cake. The cooking time will be about the same. If you make a sheet cake, you will probably have some icing leftover.
You can also make cupcakes with this recipe, but reduce the cooking time to about 20 minutes. You also won't need as much icing.
To make this cake ahead, make the cake and allow it to cool completely. Wrap the layers securely and freeze for up to two months. The day you want to serve it, let the layers thaw, make the icing and ice the cake.
This cake is best if kept covered and refrigerated. It is also easier to slice if it is cold.
Be sure to allow the cake layers to cool completely before frosting. If the cake is warm, your icing will melt and slide off.
Believe it or not, there are folks in this world that dislike raisins. If any of these folks happen to live in your house, feel free to leave them out.
If you don't have pecans, you can leave them out or substitute walnuts.