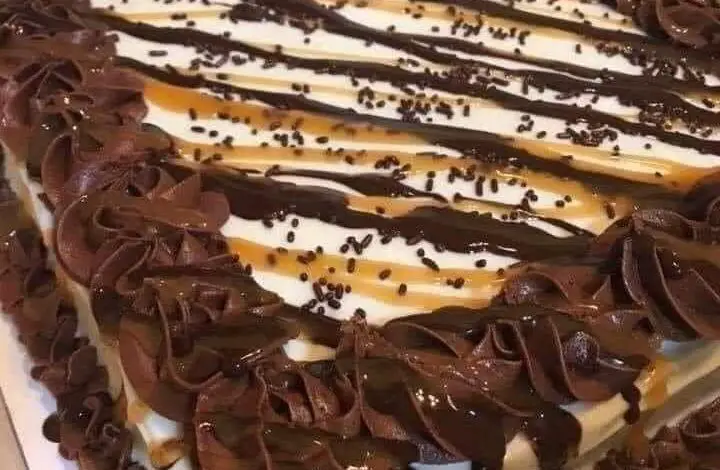 𝙃𝙤𝙬 𝙏𝙤 𝙈𝙖𝙠𝙚 𝙏𝙝𝙞𝙨 𝙋𝙚𝙧𝙛𝙚𝙘𝙩 𝘾𝙝𝙤𝙘𝙤𝙡𝙖𝙩𝙚 𝘾𝙖𝙠𝙚 𝘾𝙖𝙧𝙖𝙢𝙚𝙡 😋😋
𝐈𝐧𝐠𝐫𝐞𝐝𝐢𝐞𝐧𝐭𝐬
𝗖𝗛𝗘𝗘𝗦𝗘𝗖𝗔𝗞𝗘
• 4 packages (32 ounces) cream cheese, softened
• 1 1/4 cups (250g) granulated sugar, superfine
• 1/2 cup sour cream, room temperature
• 2 teaspoons vanilla extract
• 5 large eggs, room temperature
𝗖𝗛𝗢𝗖𝗢𝗟𝗔𝗧𝗘 𝗖𝗔𝗞𝗘
• 1 3/4 cups (210g) all-purpose flour
• 2 teaspoons vanilla extract
• 2 x-large eggs, room temperature
• 1/2 cup (112g) vegetable oil
• 1 cup (240g) buttermilk, room temperature
• 1 teaspoon Kosher salt
• 1 teaspoon baking powder
• 2 teaspoons baking soda
• 3/4 cup (90g) unsweetened cocoa powder
• 2 cups (400g) granulated sugar
• 1 cup (237g) freshly brewed hot coffee (I use decaf), or hot water
𝗖𝗛𝗢𝗖𝗢𝗟𝗔𝗧𝗘 𝗕𝗨𝗧𝗧𝗘𝗥𝗖𝗥𝗘𝗔𝗠
• 1 1/2 cups (340g) unsalted butter, room temperature
• 4 cups (500g) confectioners' sugar
• 3/4 cup (94g) cocoa powder
• 4 tablespoons heavy whipping cream
• 2 teaspoons vanilla extract
• 1 pinch salt
• TOPPINGS
• 1 jar salted caramel sauce
• 1 bag mini chocolate chips
𝗜𝗡𝗦𝗧𝗥𝗨𝗖𝗧𝗜𝗢𝗡𝗦:
𝗖𝗛𝗘𝗘𝗦𝗘𝗖𝗔𝗞𝗘
Preheat oven to 350°F. Prepare 9-inch springform pan by spraying with bakers spray and lining with parchment.
Use an electric mixer or stand mixer fitted with the whisk attachment to mix cream cheese until creamed.
Beat in the sugar and scrape down the sides of the bowl.
Add in the sour cream and vanilla.
Blend until smooth and creamy. Scrape down the sides of the bowl. With the mixer on low, add in eggs one by one until fully incorporated.
Pour the filling into the prepared 9-inch pan.
Place your springform pan with the cheesecake in it into a slightly larger pan and add about 1 inch of hot water to the outside of the pan (for the water bath).
Bake until the top of cheesecake turns golden, about 60 – 70 minutes. Let cheesecake cool on a wire rack.
Refrigerate for at least 2 hours before assembling the cake.
𝘾𝙃𝙊𝘾𝙊𝙇𝘼𝙏𝙀 𝘾𝘼𝙆𝙀
Preheat oven to 350°F.
Sift the flour, sugar, cocoa, baking soda, baking powder, and salt into the bowl and mix until combined.
In another bowl, combine the buttermilk, oil, eggs, and vanilla.
With the mixer on low speed, slowly add the wet ingredients to the dry. With mixer still on low, add the coffee and stir just to combine, scraping the bottom of the bowl with a rubber spatula. Pour the batter into two 8-inch round prepared pans and bake for 30 to 40 minutes at 350°F, until a cake tester or toothpick comes out mostly clean (not wet).
Cool in the pans for 30 minutes, then turn them out onto a cooling rack and cool completely.
𝘾𝙃𝙊𝘾𝙊𝙇𝘼𝙏𝙀 𝘽𝙐𝙏𝙏𝙀𝙍𝘾𝙍𝙀𝘼𝙈
In the bowl of a stand mixer fitted with whisk attachment, whisk butter and sugar on medium-high speed until very pale and fluffy or about five minutes. Be sure to stop at least once and scrape the bowl.
With the mixer off, add in cocoa powder, vanilla and salt.
Turn mixer on low and blend for about 30 seconds.
Add in heavy cream one tablespoon at a time.
Once all cream has been added and the mixture is mostly combined, turn off the mixer and scrape down the sides of the bowl.
Now turn the mixer onto medium-high to high and whisk for 3-5 minutes or until mixture is lighter and fluffier. The frosting will be shiny and seem to have many large air bubbles throughout and this is exactly what we are going for. (You can smooth those out on the cake if so desired.)
𝗔𝗦𝗦𝗘𝗠𝗕𝗟𝗜𝗡𝗚 𝗧𝗛𝗘 𝗖𝗛𝗢𝗖𝗢𝗟𝗔𝗧𝗘 𝗖𝗔𝗥𝗔𝗠𝗘𝗟 𝗖𝗛𝗘𝗘𝗦𝗘𝗖𝗔𝗞𝗘 𝗖𝗔𝗞𝗘
Place one 8-inch layer of chocolate cake on a cake stand.
Carefully place the cheesecake on top of that. Trim the cheesecake to make it the same size as the chocolate cake.
Drizzle some of the salted caramel sauce on top of the cheesecake.
Set the other layer of 8-inch cake on top of the cheesecake.
Cover cake with a crumb coat of chocolate buttercream.
Press mini chocolate chips into the side of the cake making sure to cover the sides completely.
Pipe out dollops of the buttercream on top of the cake around the edge, and drizzle more salted caramel sauce on top. Chill until you are
ready to serve