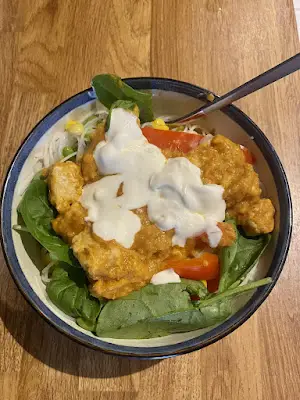 budget Summer warm indian noodle salad
Summer warm indian noodle salad
It's too friggin hot this week. Based on the BOL pots you buy in supermarkets, this meal is quick to prepare and uses mostly frozen ingredients – it's my "curry for when it's too hot for curry" meal, it's light, tasty and nourishing. You can swap the veg for any vegetables that cook quickly by blanching – think finely chopped greens like cabbage and kale, scallions, cherry tomatoes, onions, small carrot pieces, green beans – if you're not sure, cut them up small or even grate them. Avoid potatoes and sweet potatoes, parsnips.
I didn't use a jar sauce (I make my own in batches and freeze) but I've tailored this recipe and costings to people who will use one as they're cheap and widely available in the UK.
Per portion.
Read alsoStrawberry Custard Cake
Easiest French Toast ever, a Classic Toast Recipe
Baked mango & coconut donuts!
traditional Okonomiyaki recipe
– 1 portion dry rice vermicelli
– Handful each frozen edamame beans, frozen green peas and frozen sweet corn, plus some chopped fresh red pepper.
– Handful baby spinach.
– 1/3 jar supermarket butter chicken sauce.
– 1 handful Quorn pieces (or you could use cooked egg, cooked tofu, cooked lentils, etc – any protein that safely cooks in the microwave.)
– 1 dollop sour cream or plain yoghurt (I had it leftover, omit it if you want.)
Cost per portion =
– 25p rice noodles
– 25p veg
– 33p sauce (Tesco)
– 10p yoghurt/sour cream
– 50p quorn
= £1.40 per portion.
To make, add the vegetables (except spinach) and rice noodles to a bowl (such as a 2L Pyrex jug.) Boil 1.5L of water in the kettle and pour it over the noodles and vegetables, add 1tsp salt and stir, then leave to Blanche for 5-10 minutes.
Meanwhile microwave the butter chicken sauce. If you're using frozen protein such as quorn, add it to the sauce and microwave until hot through.
To assemble, drain the noodle/veg mix and add to a bowl. Add a layer of baby spinach, then the curry/quorn on top and finish with a blob of plain yoghurt.
Freeze any remaining sauce for next time!