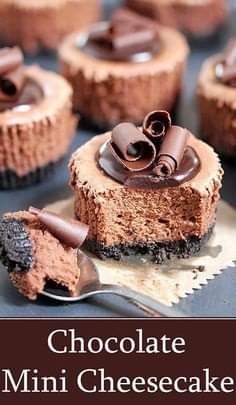 𝐂𝐇𝐎𝐂𝐎𝐋𝐀𝐓𝐄 𝐌𝐈𝐍𝐈 𝐂𝐇𝐄𝐄𝐒𝐄𝐂𝐀𝐊𝐄
𝐈𝐍𝐆𝐑𝐄𝐃𝐈𝐄𝐍𝐓𝐒:
• CRUST
• 12 Oreo Cookies
• 2 tablespoon Unsalted Butter, melted
• CHEESECAKE
• 18 oz Cream Cheese, softened
• 2/3 cup Granulated Sugar
• 3/4 cup Semisweet Chocolate Chips
• 2 Eggs
• 2 teaspoon Vanilla Extract
• GANACHE
• 1/2 cup Semi Sweet Chocolate Chips
• 1/3 cup Heavy Whipping Cream
• 1/2 teaspoon Oil
• 1 tablespoon Chocolate Syrup
• Chocolate Swirls optional
𝐈𝐍𝐒𝐓𝐑𝐔𝐂𝐓𝐈𝐎𝐍𝐒:
1. TO MAKE CRUST:
2. Line a muffin pan with 16 foil cupcake liners. Set aside.
3. Preheat the oven to 300 F. Put Oreo cookies in a food processor and pulse until fine crumbs are made.
4. Combine Oreo crumbs with melted butter. Divide the mixture between the cupcake liners and press. Set aside.
5. TO MAKE CHEESECAKE:
6. Melt chocolate chips, following the instructions on the package and leave to cool. In a large dish, beat cream cheese, sugar and vanilla, at low speed, until creamy. Add eggs and beat until creamy.
7. Finally, fold in melted chocolate and beat until combined. Spread over the Oreo layer and bake for 20-25 min.
8. Take out of the oven and leave in the muffin pan to cool completely, and then transfer to the fridge for at least 2 hours, until chilled. Remove foil cupcake liners.
9. TO MAKE CHOCOLATE GANACHE:
10. Put heavy whipping cream in the pan, on medium heat, and then remove from heat, before it comes to boil. Add chocolate chips, oil and chocolate syrup, then stir until smooth.
11. Spoon ganache on top of each cheesecake. Decorate with chocolate swirls.
12. Serve cold.