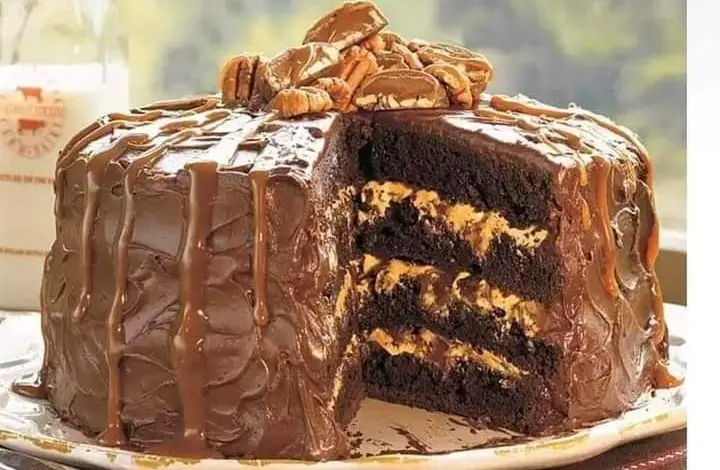 CHOCOLATE TURTLE CAKE
INGREDIENTS :
1 2 layer German chocolate cake mix
4 ounces butter or margarine, softened
1 1/2 cups of water
1/2 cup vegetable oil
1 can sweetened condensed milk split
1 Pound of Unwrapped Candy
1/2 to 1 cup chopped pecans
FOR THE GLAZE :
4 ounces of Butter
3 tablespoons of hot cocoa
6 tablespoons of evaporated milk
1 box 1 pound of powdered sugar
1 teaspoon of vanilla extract
THE CAKE:
Heat the oven to 350°F 180°C / Gas 4.
Grease with butter and flour in a 13 by 9 by 2 inch baking pan.
In a bowl combine cake mix, butter, water, oil and 1/2 can of sugary condensed milk. Beat until well mixed.
Divide dough: pour in half about 2 to 2 1/2 cups of dough into another bowl and reserve…
Pour the remaining half of the dough into the prepared baking pan. Bake in preheated oven for 20 minutes.
Meanwhile, in a slow cooker, combine the candies and the remaining half of the can of sugary condensed milk. Heat while stirring until candy melts and mixture is smooth. Don't let the bottom burn.
When the cake comes out of the oven, carefully scatter the caramel mixture over the baked cake layer.
Sprinkle the caramel generously with chopped walnuts.
Place the remaining reserved dough evenly over the caramel and walnuts layer and spread gently to cover.
Return the cake to the oven and bake for about 30 minutes more.
Take the cake out of the oven and place it on a grate. Let it cool completely before freezing.
THE GLAZE:
Combine the butter, cocoa, and evaporated milk in a small pan. Heat, stir until butter is melted and mixture is thoroughly
combined. Remove from fire and add glass sugar and vanilla; mix well.
Spread the icing on the chilled cake.
Enjoy!