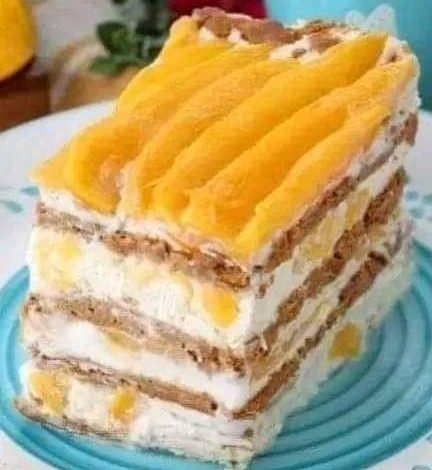 Mango Float
Mango float could be the easiest, delicious no-bake dessert you could ever make. It only needs 4 ingredients too! Try it now!I want your yummy!!
Ingredients:
• 1 can condensed milk, chilled overnight
5 mangoes, ripe but not soft
• 4 cups heavy cream(960 mL), or canned all-purpose cream, chilled overnight
• 2 teaspoons vanilla extract
• ½ teaspoon kosher salt
• 21 crackers graham cracker, plus more, crushed, for topping
Méthode
Peel the mangoes and cut the lobes off as close to the pit as possible. Thinly slice half of the mango lobes into ¹⁄₁₆-inch (15 mm)-thick slices, keeping the slices intact and transferring to a tray or plate. Cover and refrigerate until ready to assemble. Cut the remaining mango into ½-inch (1.24 cm) cubes. Transfer to a bowl, cover, and refrigerate until ready to assemble.
Add 2 cups of cream to a chilled large bowl and use an electric hand mixer to beat on medium-high speed until stiff peaks form, 3–5 minutes. Add the remaining 2 cups of cream and beat again until stiff peaks form, 3–5 minutes more.
Add half of the condensed milk and beat until fully incorporated. Add the remaining condensed milk, vanilla, and salt and beat until fully incorporated and stiff peaks form, 4–7 minutes. Give the mixture a final stir with a rubber spatula.
Line a chilled 7 x 11 (17 x 27 cm) -inch glass dish with parchment paper, leaving overhang on all sides.
Cover the bottom of the dish with a single layer of graham crackers, breaking to fill in any gaps as necessary. Spread 2–3 cups (480-720 ml) of the whipped cream mixture evenly over the graham crackers, all the way to the edges and corners of the dish.
Top with ½ of the diced mango. Repeat to make another layer. For the final layer, arrange the graham crackers over the diced mango and top with 2–3 cups of whipped cream. Arrange the thinly sliced mango decoratively on top. Sprinkle crushed graham crackers around the edge