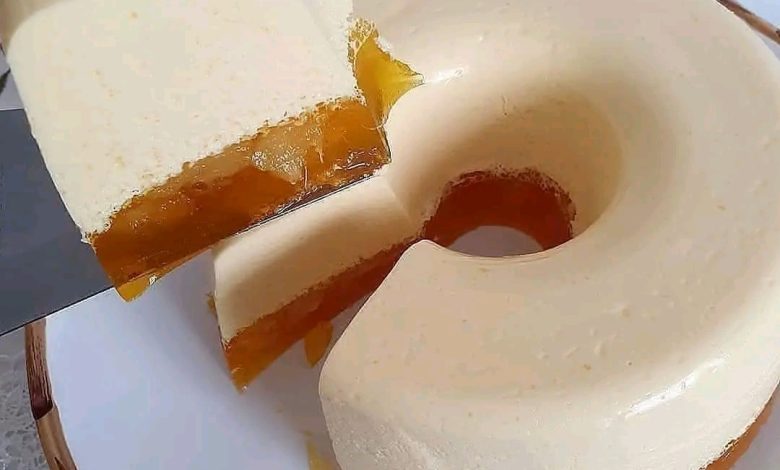 – Ingredients:
2 boxes of pineapple flavored gelatin
1 cup of boiling water (tea)
2 cans of cream
3 cups of water (tea)
3 boxes of pineapple flavored gelatin
1 pearl pineapple finely chopped or 4 cups of tea
1 cup (tea) of sugar
– Preparation mode:
1. Put the two boxes of gelatin in the blender with the boiling water and beat for 1 minute.
2. Add the cream and beat for another 4 minutes.
3. Pour the mixture into an oiled or refractory mold, cover with transparent film and take it to the freezer until it sets or in the refrigerator until it sets. Reserve.
4. Chop the pineapple and heat it with the sugar, cook until golden and the water disappears. When finished, wait for it to cool down. Reserve.
5. In a bowl, place the other 3 gelatin boxes with two cups of very hot water, stir well to dissolve and finally add a cup of ice water.
6. Now it's time to assemble the dessert. Take the shape that was in the freezer and put the pineapple on top and then the gelatin. Stir the pineapple a little so that it mixes with the gelatin.
7. Cover with cling film and place in the freezer for one hour and in the fridge for two hours.
8. Now it's just unmolding. You can use a knife to help loosen the sides!