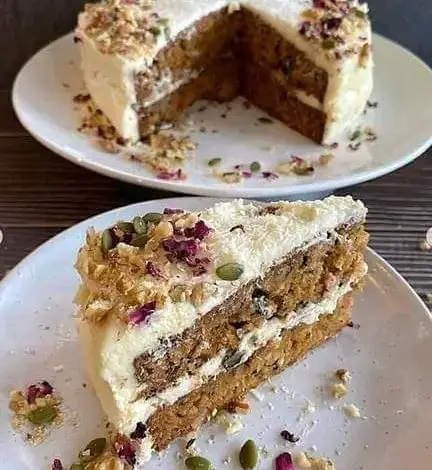 🌟 INGREDIENTS:
Cake:
◾️2 ½ cups all-purpose flour
◾️2 tsp cinnamon
◾️A pinch of nutmeg
◾️1/2 tsp salt
◾️2 tsp baking soda
◾️1.5 cups brown sugar
◾️3 eggs, room temperature
◾️1/2 cup canola oil
◾️3/4 cup milk
◾️1 tsp white vinegar
◾️1 tsp vanilla paste
◾️2 cups grated carrot (about 3 carrots)
◾️1/4 cup coconut
◾️1/2 cup walnuts – crushed
◾️1 can crushed pineapple – golden circle
(drained & reserve ◾️1/4 cup of the pineapple juice)
Frosting:
◾️250g cream cheese (room temp)
◾️150g unsalted butter (room temp)
◾️1 tsp vanilla paste
◾️4 cups icing sugar
🌟 PROCEDURE
◾️Preheat oven to 180°c.
◾️Grease two 9-inch round baking pans, butter and flour both, set aside.
◾️In a medium bowl, mix flour, baking soda, cinnamon, nutmeg and salt.
◾️In another bowl mix eggs, brown sugar, oil, vinegar, milk & vanilla paste until combined.
◾️Slowly add flour mixture and mix until combined.
◾️Stir in grated carrots, walnuts, coconut & pineapple (and ¼ cup of the reserved juice) and mix.
◾️Evenly pour the batter into the two prepared pans evenly.
◾️Bake for 35 mins.
◾️Let cool in the pans for about 20 mins, then remove the cakes to wire racks and let cool completely.
◾️With the flat side facing you smother with cream cheese frosting,
◾️Add the second layer flat side up and cover completely with the rest if the frosting.
◾️Decorate with crushed walnuts & coconut