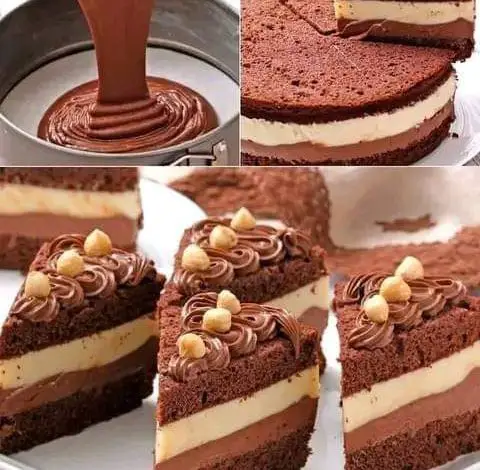 🌟  INGREDIENTS
• 3 eggs
• 150g / 1 cup sugar
• 150g / 1 cup flour
• 4 tbsp cocoa
• 100ml / 3.5ozmilk
• 2 tbsp melted butter
• 1 tsp baking powder

🌟 FILLING
• 450ml / 15.9ozmilk
• 5 tbsp powdered milk
• 2 tbsp butter
• 350ml / 12.3oz condensed milk
• 200ml / 7ozs cream
• 200g white chocolate
• 100ml / 3.5oz milk
• 1 tbsp flour
• 1 tbsp cornstarch
• 100g dark chocolate

🌟 SYRUP
• 200mlwater
• 50mlcondensedmilk

🌟 COATING
• Hazelnut cream
• Hazelnuts

🌟 METHOD
◾️Beat eggs and sugar. Add all ingredients and mix. Put in a form with parchment paper. Bake for 40 minutes at 180°C/350°F.

◾️Mix 1 tablespoon of flour with starch and pour100mlmilk. Mix all the ingredients for the cream and brew.
◾️Divide into two equal parts. In one put 100 grams of dark chocolate and mix until smooth.
◾️Cut the biscuit in a half, soak each cake in syrup. Put white cream on the cake, then chocolate cream. Cover with a cake. Cool for 6 hours.
◾️Serve the cake, garnish with hazelnut cream and hazelnuts.
I love you all