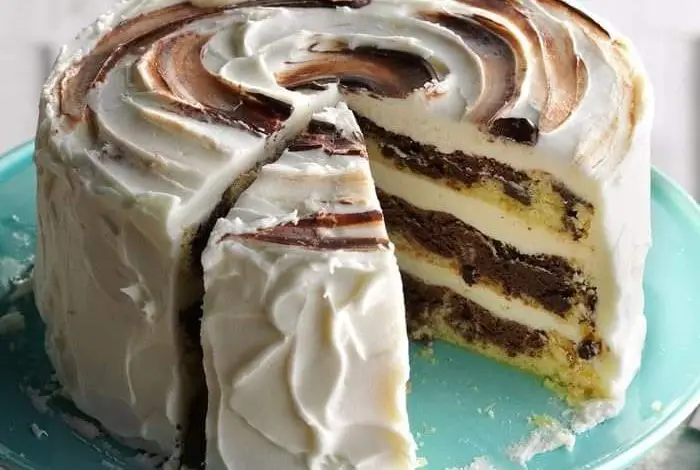 Ingredients
• 4 ounces bittersweet chocolate, chopped
• 3 tablespoons plus 1-1/4 cups butter, softened, divided
• 2 cups sugar
• 5 large eggs, room temperature
• 3 teaspoons vanilla extract
• 2-1/4 cups all-purpose flour
• 2 teaspoons baking powder
• 1/2 teaspoon salt
• 1/2 cup sour cream
• 1/2 cup miniature semisweet chocolate chips, optional
• FROSTING:
• 3/4 cup butter, softened
• 6-3/4 cups confectioners' sugar
• 2 teaspoons vanilla extract
• 1/2 to 2/3 cup 2% milk
• 2 tablespoons miniature semisweet chocolate chips
Directions
• 1. In top of a double boiler or a metal bowl over barely simmering water, melt chocolate and 3 tablespoons butter; stir until smooth. Cool to room temperature.
• 2. Preheat oven to 375°. Line bottoms of 3 greased 8-in. round baking pans with parchment; grease parchment.
• 3. In a large bowl, cream remaining butter and sugar until light and fluffy. Add eggs, 1 at a time, beating well after each addition. Beat in vanilla. Whisk flour, baking powder and salt; add to creamed mixture alternately with sour cream, beating well after each addition.
• 4. Remove 2 cups batter to a small bowl; stir in cooled chocolate mixture and, if desired, chocolate chips, until blended. Drop plain and chocolate batters by tablespoonfuls into prepared pans, dividing batters evenly among pans. To make batter level in pans, tap several times on counter.
• 5. Bake until a toothpick inserted in center comes out clean, 20-25 minutes. Cool in pans 10 minutes before removing to wire racks; remove parchment. Cool completely.
• 6. For frosting, in a large bowl, beat butter until smooth. Gradually beat in confectioners' sugar, vanilla and enough milk to reach desired consistency.
• 7. If cake layers have rounded tops, trim with a serrated knife to make level. In a microwave, melt chocolate chips; stir until smooth. Cool slightly.
• 8. Place 1 cake layer on a serving plate; spread with 1/2 cup frosting. Repeat layers. Top with remaining cake layer. Frost top and sides of cake.
• 9. Drop cooled chocolate by 1/2 teaspoonfuls over frosting. Using a large offset spatula, smear chocolate to create a marble design in frosting.