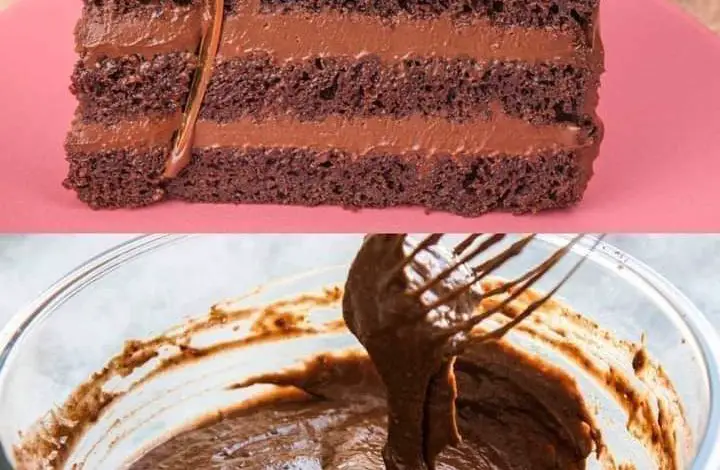 Ingredients:
2 cups all-purpose flour
2 teaspoons baking soda
1 teaspoon salt
½ teaspoon baking powder
½ cup unsalted butter at room temperature
1 cup Dutch-processed cocoa powder sifted
½ cup vegetable oil
1½ cups granulated sugar
½ cup packed light brown sugar
3 large eggs at room temperature
1 tablespoon vanilla extract
½ cup sour cream at room temperature
1 cup milk at room temperature
1 cup hot coffee
chocolate buttercream frosting
Instructions :
This decadent chocolate food cake will melt in your mouth with an intense chocolate flavor.
Start by preheating your oven to 350 degrees Fahrenheit and prepare 2 9inch baking pans. Butter and flour the pans then line the bottom with parchment paper and set aside. Into a large mixing bowl, sift in 2 cups of all-purpose flour together with a teaspoon of salt, baking powder, and baking soda then sift them up and give them a whisk then set that aside.
Into a medium-sized bowl, add one cup of dutch processed cocoa powder, to that add half a cup of vegetable oil, and whisk it up into a black beautiful cocoa solution.
Prepare your stand mixer
with the paddle attachment and add half a cup of unsalted room temperature butter and cream it up until nice and smooth (that should take about 30 seconds). Add the chocolate solution into the butter together with half a cup of light brown sugar and one and a half cups of granulated sugar.
Mix that up for about 5 minutes until it's really light and fluffy scraping the bowl down in between the mixing. With the mixer on low speed, add three room temperature eggs together with vanilla extract then reduce the speed to the lowest setting and add the dry mixture in thirds. To add more richness to the cake, add half a cup of sour cream and half a cup of milk into the batter alternating it with the dry
ingredients
Mix until just combined with no dry ingredients seen then switch to a spatula and finish that off by scraping the bottoms and sides of the bowl. Lastly, add one cup of hot coffee, the coffee taste won't be felt in the cake but it will help amp up the chocolate flavor.
If you don't want to use the coffee you can alternate with hot water instead. Whisk the hot coffee/water into the chocolate batter until you have a uniform consistency.
Divide your batter equally in the baking pans and bale them into the preheated oven for 40 to 45 minutes or until the center is set. To make the chocolate buttercream frosting, add butter into the bowl of a stand mixer and whip on high for 5 minutes until light and cloudy.
Add half a cup of cocoa powder, salt and vanilla then mix until nice and combined. Once that is well combined, add 6 to 8 cups of powdered sugar one by one while it mixes on low speed and add about 3 tablespoons of cream.
The sugar is according to your taste so you can use more or less. To assemble the cake, make sure they are completely cooled down, place it on a plate, and add a nice amount of frosting on top. Smooth that out to the edge and add the next layer ad cover with frosting.
Cover the cake with all the frosting and smooth it with a spatula. Enjoy the chocolate amazingness of this cake with your family.