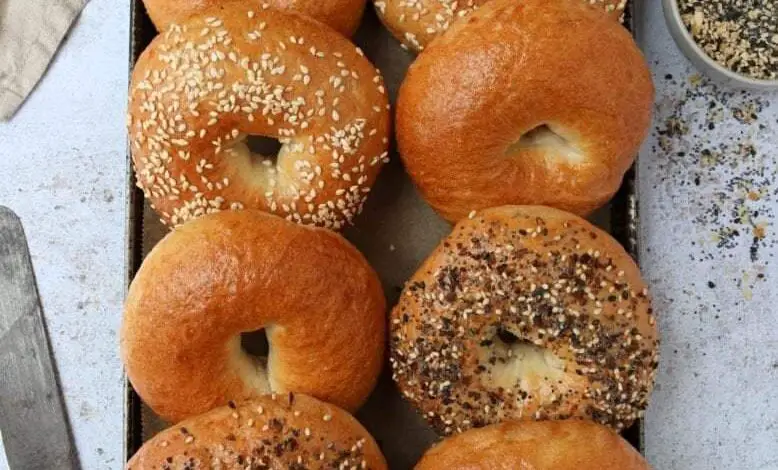 Delicious chewy bagels perfect for spreading with cream cheese!
Ingredients
• 500 g Strong white bread flour
• 1 tbsp Caster sugar
• 1 tsp Salt
• 7 g Sachet fast action yeast
• 300 ml Water
• 1 tsp Bicarbonate of soda
• 1 Egg medium, beaten
For the filling
• 185 g Lemon curd good quality shop bought or homemade
• 50 g White chocolate chips
Instructions
1. In a large bowl, add the bread flour, yeast, salt and sugar. Make sure to add the salt and yeast on opposite sides of the bowl, then stir together
2. Add the water to the flour mixture and bring it together into a dough
3. Knead by hand, or use a food mixer with the dough hook attachment, for 10 minutes
4. Put the kneaded dough into an oiled bowl covered with cling film, leave it in a warm place to rise for 1 hour
5. Knock the air out of the risen dough, and separate into nine pieces weighing roughly 90g each
6. Shape each piece into a ball, then use your fingers to create a hole in each ball, make sure it is at least 3cm wide
7. Place the bagel shapes onto lined baking trays, cover with oiled cling film and leave them to prove (rise) again, for 30 minutes
8. Pre-heat your oven to 200C Fan/220C/425F/Gas Mark 7
9. Prepare a pan of boiling water and add the bicarbonate of soda to it
10. Boil each bagel for 1 minute, flipping it over half way through, so 30 seconds each side. You can boil multiple bagels at once if there is space in your pan
11. Once they are boiled, put them baking on the lined baking tray, give them a couple of minutes to stop steaming, then glaze them with beaten egg and add any seeds or seasoning
12. Bake for 15-18 minutes until puffed up and golden
13. Let them cool, then slice and add your favorite toppings!

14. Store leftovers in an airtight container and eat within 2 days. You can also freeze them.